DC mayor Muriel Bowser announces new effort to help find missing children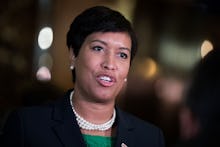 Even though a widely shared statistic about 14 black girls going missing in Washington, D.C., in recent weeks has been debunked, the city's mayor Muriel Bowser has announced new initiatives to help find missing children in the nation's capital, including what are called "wraparound" social services to help address the needs of families in distress.
"One missing young person is one too many, and these new initiatives will help us do more to find and protect young people, particularly young girls of color, across our city," Bowser said, according to Fox News. 
"Through social media, we have been able to highlight this problem and bring awareness to open cases, and now we are doing more to ensure that families and children are receiving the wraparound services they need to keep families together and children safe." 
The mayor's statement comes after an inaccurate statistic went viral claiming that 14 black girls had gone missing in 24 hours.
Context matters. Reporters were able to separate the facts from the myths: The alarmist statistic was wrong. The District of Columbia tallied 501 cases of missing juveniles, many of whom were black or Latino, in the first three months of 2017. In total, only 22 were unsolved as of March 24. Most of the city's missing teens had left their homes voluntarily, NBC Washington reported. Most were later found. 
The D.C. Metropolitan Police Department had begun posting more missing person fliers on social media, which Derrica Wilson, co-founder of the Black and Missing Foundation, called "a blessing and a curse," according to WAMU. Missing person cases were being solved more quickly, but the uptick in posts was causing some hysteria.
But, as BuzzFeed's Julia Reinstein reported, the hysteria was rooted in some truth: The cases of missing black people are disproportionately large compared to their white counterparts. In total, 37% of people reported missing in 2016 were people of color. And those cases rarely make headlines, unlike those of young white women. 
Ann-Derrick Gaillot at the Outline made an especially important point about the problem with this story suddenly going viral. 
"The way many of these tweets incorporate shame to raise awareness or express valid disgust begs the question of what it is that is shocking us more: That so many black girls are missing or that so many of us weren't paying attention until this month?" Gaillot wrote. "This underscores a failure in newsrooms but also on social media: Neither is a salve on its own without context, proper sourcing and an ecosystem that supports both."
This is where lawmaking comes into play. Black members of Congress have called on the FBI to pay closer attention to the cases of missing black children, according to a report by the Associated Press on Thursday.