Ben Carson says affordable housing is a Trump priority — evidence suggests otherwise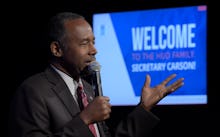 Donald Trump's forthcoming infrastructure bill will include money for affordable housing, Housing and Urban Development Secretary Ben Carson said at a Florida event on March 24.
But does that line up with what the Trump administration has signaled it plans to support in its proposed budget outline?
'There will be money... for infrastructure'
"There will be money coming to HUD for infrastructure purposes," Carson told the crowd.
However, Carson's comments reflect different priorities than what the Trump administration laid out in its budget outline earlier this month. HUD's budget would be slashed by $6 billion, or about 13%, under Trump's proposal.
The Trump budget would cut the Community Development Block Grant program, which supports urban renewal, affordable housing, disaster recovery and other programs. Also on the chopping block is $35 million for Chapter 4 affordable housing. 
According to the Washington Post, "[e]xperts and advocates have said the overall reduction in HUD's budget will put tremendous strain on the nation's housing authorities, which manage public housing and rely heavily on federal funding." If Trump's budget passes, it "could mean a loss of up to 200,000 subsidized housing vouchers in coming years, according to flat-funding estimates."
But the Trump administration says that responsibility for affordable housing should fall to state and local authorities. "State and local governments are better positioned to serve their communities based on local needs and priorities," the budget document says.
"For someone who says he wants to invest in infrastructure, I don't see any evidence of it in this budget," Beth Osborne, a senior policy adviser at Transportation for America, a nonpartisan group that urges investment in transportation, told CNN.
Infrastructure: the next health care?
The Trump administration is likely to find passing a huge new infrastructure bill through Congress as tricky as repealing Obamacare, which it failed to do last week.
As Jeff Spross notes in the Week, bridges, roads and tunnels don't just magically spring up, they require money to be built. Any new infrastructure spending would require new taxes, which Congressional budget hawks oppose. 
A $1 trillion bill would certainly drive up the national debt, which is likely to spook Congressional hardliners. To pass such a bill, Trump would likely need the support of Democrats.
After Trump's humiliating defeat on health care, his Democratic opposition seems newly empowered. As Jonathan Martin notes in the New York Times: "[W]hile Democrats are loath to hold up Senator Mitch McConnell of Kentucky, a fierce and calculating opponent, as a role model, his strategy as the Republican leader in denying Mr. Obama bipartisan support is plainly more alluring now."