Save money on health: 5 hacks to find the best doctor & get care — but never overpay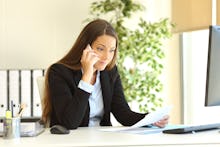 From prescription medication to standard doctor visits, health care costs can be staggering, even if you have health insurance.  Rather than getting stuck with medical bills, some people skip visiting a doctor altogether.
In fact, just over one in four millennials don't go to the doctor to avoid medical bills, according to a study by health care company Amino and global market analyst Ipsos. If you have a high-deductible health plan, you'll have to pay the entire bill out of pocket for at least the first $1,300 of your medical bills each year. Premiums are going up too: In 2017 mid-level Affordable Care Act plan cost 22% more on average than it did in 2016.
Here are five tips on keeping your medical costs in check:
1. Make sure you are seeing a doctor in-network
Seeing a health care provider in your network usually means you'll receive care at a lower price, which translates into significant cash savings. Here's an example from Blue Cross Blue Shield that explains how this works: 
In network: You go to a doctor and the total charge is $250. You get a discount of $75 because you went to an in-network doctor and our negotiated rate with them is lower. We pay $140. You pay what's left, which is $35.
How to know if your doc is in-network? Start with your insurance company's online directory for a list of in-network providers, then verify directly by phone with both the doctor and your insurer to make sure they are still in-network, as online directories aren't always up to date. Make sure to ask whether the medical provider is in your specific network, not just whether the doctor is covered by some plans your insurer offers (but not the specific one you have).
2. Understand how much you have to pay out of pocket
Physicians are free to set their own price for their services. However, the amount you actually wind up paying for each visit depends on your insurance and whether or not you've paid your deductible.
Your deductible is the annual amount you are expected to pay for medical services, based on your plan. There can also be additional out-of-pocket costs, including a copay or cost for a test or procedure not pre-authorized by your health care provider. 
Ask about all charges before you set foot in the office by calling your insurance company and asking if you've met your deductible or will have to pay for the visit out of pocket. 
Remember that most plans cover preventive care services such as immunizations and HIV testing at no charge to you, even if you haven't met your deductible. But watch out for additional charges like the price of lab work needed even for covered procedures. 
If you haven't met your deductible, the price you pay will be based on the billing codes your doctor submits. Try to get your doctor to tell you in advance which billing codes they will use, then go back to your insurance company and find out the maximum amount allowed by their plan for that specific code.
If the price is more than you want or can afford to pay, "you should also ask [your doctor] how necessary the procedure or test is for you right now," Amino's personal finance expert Laura Adams suggested. "You could save money if it's a test that could be rescheduled for later in future or if it isn't something serious you need to address right now." 
3. Get an itemized invoice and make sure all charges are warranted
Your physician should provide you with a receipt for any money paid, such as your copay, and for the services performed during the visit. Since it can take months before the bill even arrives, if possible, take notes during your visit, including if you saw a doctor or physician assistant, how long your visit lasted and what tests or procedures were provided. When you get the bill, compare it to your notes and make sure the billing matches the services you actually received.
Billing errors happen and are fairly common. "The codes get changed and adapted, and there's plenty of room for simple error. A small mistake can really balloon into something very expensive," Steve Weisman, financial scam expert and founder of Scamicide, told GoBankingRates. 
If you find an error, reach out to your physician's office and ask for the bill to be corrected. Don't forget to get the name of each person you speak with, along with the date of contact, so you can follow up if the adjustments aren't made.
4. Consider visiting an urgent care clinic over an ER for off-hour health issues  
The average cost of an urgent care visit is $150 versus a median cost of $1,233 for an emergency room visit, according to Debt.org. So think twice before you rush off to the emergency room if your doctor's office is closed and you need immediate medical attention. 
"Obviously for a true emergency, always head to the ER," Adams said. Examples include a head injury, severe chest pain, serious bleeding or a deep wound. For less serious issues, like a high fever or ear infection, "if you can avoid the ER and go to one of the local urgent care clinics in your neighborhood, you can reduce both costs and wait time," so long as your insurance covers the visit, Adams added. 
5. Always ask for the generic drug and shop around for the lowest prescription price
Although not all name brand prescriptions have a generic equivalent, it's always prudent to ask for one, as you can save up to $100 per prescription with generic options, Consumer Reports notes. In most cases you will need to specifically request the generic medication from your doctor.
Drug prices also vary considerably depending on where you fill your prescription or purchase over-the-counter medications. Costco, Sam's Club and some online retailers often have the best prices, Consumer Reports found, while retail drugstores like CVS and RiteAid charge the most.
So do your homework, ask questions and shop around for both physician and drug prices. Chances are, you'll see a huge payoff.
Sign up for The Payoff — your weekly crash course on how to live your best financial life. Additionally, for all your burning money questions, check out Mic's credit, savings, career, investing and health care hubs for more information — that pays off.