3 of the most underrated OG feminist rap anthems for Women's History Month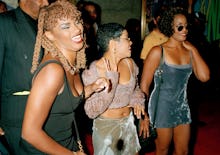 We're at the tail end of Women's History Month, and we're coming off of one of the most epic rap battles in history. It's a battle that happened to star Nicki Minaj, now the most accomplished female musician in Billboard history. Sure, she lost to Remy Ma in the eyes of some, but that's almost beside the point. It's 2017, and women like Minaj, Remy and newcomer Young M.A are at the top of the rap game.
So it's worth taking a walk down memory lane and acknowledging some of the most underrated feminist anthems in hip-hop history. I'm calling these records "feminist" not just because they're by women, but also because they tackle some of the most taboo issues in society, namely, a woman's right to her own body, and to decide whether or when she decides to give birth.
Of course, there are the classics, Queen Latifah's "U-N-I-T-Y" chief among them. But here's a look at some tracks you may want to add to that feminist clapback category.
Roxanne Shanté, "Roxanne's Revenge"
Queens, New York, is home to some of hip-hop's most legendary rappers, including Remy's rival, Nicki Minaj. But that list also includes Nas, LL Cool J and Pharoahe Monch, along with one of rap's first pioneering female emcees: Roxanne Shanté.
In the mid-1980s, Shanté was a teenage emcee who found herself in a heated rap beef with a rival Queens rap crew called U.T.F.O. who dropped "Roxanne, Roxanne," a now-classic record about a girl who's "too stuck up" to give a guy her number. In 1984, Shanté released a track called "Roxanne's Revenge," a feminist response in which she takes direct aim at U.T.F.O's all-male members. Shanté's version is an alternate telling of the story, in which the guys were too wack to deserve the girl's attention in the first place. 
"Tryin' to be like me, yeah, is very hard/ You think you are God, but you do eat lard," she raps. "Tryin' to be cute, and you're tryin' to be fly/ Don't you know you wish you could be my guy?"
But Shanté took it one step further: These guys were wack, but they also couldn't hold a candle to her as an emcee, not even on the same beat. "And if you're thinkin' that I'm bitin' your beat/ Well, then you just better know, and a-listen to me/ Because my name is Roxanne-a, and I came to say/ I'm rockin' to the beat-a, and I do it every day/ I'm conceited, never beated, never heard of defeated."
Salt-n-Pepa, "None of Your Business"
Fast forward to 1993, when it became crystal clear that hip-hop had the potential to breakthrough to mainstream success. Salt-n-Pepa, a hip-hop trio also from Queens, released their fourth album, Very Necessary. That album produced a handful of classic records that would go on to define the group, including "Shoop" and "Whatta Man." But it also gave us one of the fiercest feminist clapbacks of the 1990s in "None of Your Business". 
In the chorus of the song, the group's intent is clear: "If I/ wanna take a guy/ home with me tonight/ it's none of your business!" What they're saying is, I can have sex with whoever I want, whenever I want, and you — conservative white politician or Afrocentric hotep activist — can't stop me. 
Lauryn Hill, "To Zion"
Lauryn Hill, one of the most talented and enigmatic emcees in hip-hop history, closed out the soundtrack of the '90s. She'd spent the better part of the decade with the Fugees, a hip-hop trio from New Jersey, giving the world classic lines that challenged rap's more machismo gangsta tendencies, lines like, "So while you imitating Al Capone, I'll be Nina Simone/And defecating on your microphone."
But her solo work, 1998's The Miseducation of Lauryn Hill, though politically conservative in retrospect, still offered up its own poignant pro-choice anthems. 
The record that stands out in this regard is "To Zion," a love letter to Hill's then-newborn son, Zion. She'd gotten pregnant at the height of her fame, and resisted people's advice to have an abortion for the sake of her career. 
"That song is about the revelation that my son was to me," she told the Rock Backpages back in 1999. "I had always made decisions for other people, making everybody else happy, and once I had him that was really the first decision that was unpopular for me. It was one that was based on my happiness and not what other people wanted for me or for themselves. And it was the best decision that I could have ever made, because I'm the happiest and healthiest that I have ever been."
The song had particular relevance given the fact that for so much of black women's history in the Americas, they've been denied the right to choose. During slavery, they were often raped to produce children who could then be worked or sold off for profit.