Mark Jimmerson died in Oklahoma County Jail — one day after his mom tried to save his life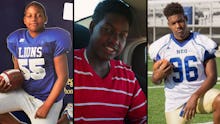 Davey Mark Jimmerson did what many young adults might do in a moment of medical crisis: He called his mom. He'd been asthmatic for nearly his entire life, and his mother had plenty of practice tending to the various needs of her nine children.
Tonya Wilson, Jimmerson's mother, had been there every step of the way for her jailed son as his criminal case worked its way through the system in Oklahoma City. He had been arrested in February 2016 on felony charges that included robbery with a dangerous weapon. In the scheme of things, an asthma attack was something Wilson could easily handle herself.
"A lot of my mother's kids have asthma," Shaprese Wilson, Jimmerson's older sister, said. "We are well aware [of] how to manage it, how to treat it, how to control it, when to take action and when to just let it be."
Tonya's son — the 6-foot-8-inch, 270-pound aspiring professional football player whom they called Mark — had just turned 21 on March 20. According to his sister, Jimmerson had been calling his mother on the phone in his jail cell that week, complaining about trouble breathing, and told her that medical personnel had initially given him a breathing treatment and an allergy pill. But Jimmerson's calls updating his family about his condition stopped coming. His cellmate began placing calls to Jimmerson's mother, his sister said, because he couldn't get out of bed to do it himself.
Tonya Wilson had made every attempt to help save his life. She offered to bring the jailers her son's inhalers to make him more comfortable.
"She was there, the day before, with the solution," Jimmerson's sister said, "with the nebulizer, with the medication that goes in it. She had everything that he needed to live."
Ultimately, an authority at the jail rebuffed the offer from Jimmerson's mother on Friday, Shaprese Wilson said, promising that Jimmerson would be seen by the jail's medical personnel.
"They told her it was going to cost," Jimmerson's sister said, crying. "They told her it was going to cost $60. She was like, 'I don't care how much it costs. It's not about the money. He has $60 on his books. Take it from his commissary.'"
"Sixty dollars?" Shaprese Wilson said. "For my brother's life. Are you serious?"
The next morning, police officers showed up at Tonya Wilson's home. Jimmerson had been pronounced dead overnight, they said.
Mark Opgrande, spokesman for the Oklahoma County Sheriff's Office, said Jimmerson was found unresponsive inside his jail cell sometime after midnight. He was pronounced dead around 2:30 a.m. Saturday at a local hospital. The medical examiner was expected to determine the cause of death, while a state investigation got underway, the spokesman said.
Family members and community advocates say what happened to Jimmerson is a result of persisting dysfunction in the criminal justice system and a lack of accountability for the leaders charged with overseeing it. In recent years, the Oklahoma County Jail — described by a December report from the Vera Institute for Justice and Greater Oklahoma City Chamber Criminal Justice Task Force as an overcrowded facility that disproportionately incarcerates the area's black population — has been rocked by an alarming number of in-custody deaths. There have been at least three deaths reported at the jail in 2017. In 2016, there were at least nine deaths, according to an Oklahoman report: Many were ruled suicides and the others the result of natural causes.
But whatever comes of the ongoing state investigation into Jimmerson's death, the family wants to make it clear that lives don't stop mattering when they cross the gates of a jail or prison.
"As soon as you enter the doors — really, as soon as you enter the court system — you are automatically dehumanized," Candace Liger, a community organizer with the American Civil Liberties Union of Oklahoma who is working with Jimmerson's family, said. "You become incarcerated, and, sadly, the community no longer sees you as one of us. But it doesn't justify a death, not on our watch."
With news of his death, local media outlets reported on his 2016 arrest. In interviews with Mic, the family said the public got a very limited picture of who he was. Jimmerson's family knew him as a "gentle giant" whose smile softened his size.  "He was the sweetest person — and I know a lot of people say this about their family members," Shaprese Wilson said. "But he was a very selfless, kind person who strived for better in day-to-day life."
Jimmerson had been a standout defensive tackle for the varsity football team at Putnam City High School in Oklahoma City. In his freshman year at Northeastern Oklahoma A&M College, he played football on an athletic scholarship. He dreamt of playing in the NFL.
He also loved children, his sister said. He always wanted to make them laugh and smile. "He would feed kids — oh, my goodness — he would feed you," Wilson said, laughing.
Wilson had moved to Richmond, California, about 18 miles northeast of San Francisco, and she remembered fondly the occasions when they reunited in Oklahoma for the holidays. 
"He always greeted you with this big, warm smile and hug," she said. "He would pick me up off the ground and just whisper in my ear, 'I love you so much.' Every single time I saw him. Every time."
Jimmerson had also experienced "a really stressful point in his life," Wilson said. When their sister was diagnosed with cancer, Jimmerson took it hard. His Feb. 10, 2016, arrest — it followed "a bad decision one night that he had with friends," his sister said — on charges of robbery with a dangerous weapon and conspiracy to commit a felony sidelined his college education and football career.
His family isn't arguing that he shouldn't have been held accountable for his mistakes — but they have also said they suspect he was "railroaded" into pleading guilty to charges.
"Mentally, he wasn't capable of making those decisions about life," his sister said.
Jimmerson was recently sentenced to 10 years in prison. He would have been transferred from Oklahoma County Jail to a state penitentiary, Opgrande said. But an aggravated assault charge stemming from an altercation with other inmates in December may have been what delayed Jimmerson's transfer, Opgrande said.
The circumstances surrounding his medical treatment are under investigation by the Oklahoma State Bureau of Investigation, which takes over investigations of in-custody deaths at jails and prisons, Opgrande said. The OSBI did not immediately respond to Mic's request for information Wednesday.
Opgrande said he did not have specific information about Tonya Wilson's attempts to get medical attention for her son. On Tuesday, the spokesman said it was "entirely possible" that jailers rebuffed offers to help because of protocols the jail has with a contractor providing medical services for inmates. The Oklahoma County Jail's medical services are outsourced to Armor Correctional Health Services, Inc., a national provider that has rendered medical and pharmaceutical services to 30 county and regional jails in eight states.
The Oklahoma County Jail is "severely overcrowded and is running at double capacity," the December report by the Vera Institute for Justice and Greater Oklahoma City Chamber Criminal Justice Task Force said. The 13-floor jail was only meant to house 1,200 inmates but had an average daily population of 2,581. The county, an area of more than 782,000 residents that is 57% white and 16% black, locks up black people at a disproportionate rate, according to the report.
The Vera Institute recommended increased public oversight of the local justice system in Oklahoma County, a reduction in incarcerations for minor offenses and expanded mental health and substance abuse treatment diversion services.
Jimmerson's death also comes as the local community prepares to hold a primary to elect a new county sheriff on April 4, after the last one resigned in February amid allegations of financial mismanagement seemingly unrelated to the jail. The local civil rights community is raising concerns about the viewpoints of some candidates running for sheriff.
"They don't care about anybody," Liger, the Oklahoma ACLU organizer, said. "They just care about the obvious: Keeping the prisons packed, pulling money from education and continuing this hideous cycle of dehumanizing the most marginalized."
The upcoming sheriff race is partly why the local Black Lives Matter group has decided to get involved in Jimmerson's case.
"Ahead of this election, we're going to talk about some of the core issues," the Rev. T. Sheri Dickerson, executive director of Black Lives Matter OKC, said. "The lack of leadership is causing people to die. But nobody really is incensed, except those who are part of the family and who are aware of Mark's death."
Tonya Wilson, her daughter Shaprese and Jimmerson's seven other siblings had gathered in Oklahoma City on Tuesday for meetings with BLM, the ACLU and a lawyer who could give them a sense of the road ahead. They want accountability for Jimmerson's death right now, but learned Tuesday that it could be weeks or longer before they start getting substantive information about their loved one's last hours in the county jail, Dickerson, who attended the meeting with the lawyer, said. The family said it will stand with BLM and the ACLU to seek reforms at the jail. 
After the meetings, Tonya Wilson wanted to go back to the jail. Her children didn't like that idea, Dickerson said. They feared the family matriarch was too stricken by grief to return to the place that had apparently failed to save her son's life. In the end, Dickerson decided to accompany Wilson on the visit.
"Everybody thought she was going in there to go off — but I was blown away," Dickerson said. Wilson wanted to thank Jimmerson's cellmate, who called her multiple times about her son's condition. She offered to transfer the money on her son's commissary account to the man's account.
"I think this is something that I'm supposed to do," Tonya Wilson said, according to Dickerson. "I'm supposed to extend myself to him, because he may not have a family. And I want him to know that he has a family."
As for Jimmerson's kin, they are ready for a long fight, Shaprese Wilson said.
"The fight isn't over," she said. "And I don't care how long it takes. I don't care what it takes. There will be justice for him because it's not just for my brother. It's not just for Mark."