Kendrick Lamar's shoutout to women's stretch marks damn near broke the internet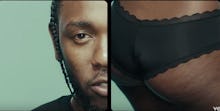 Kendrick Lamar dropped a new song and video Thursday called "Humble" and it included a shoutout to women with stretch marks that's giving people life.
"I'm so fuckin' sick and tired of the Photoshop/ Show me somethin' natural like afro on Richard Pryor/ Show me somethin' natural like ass with some stretch marks/ Still will take you down right on your mama's couch in Polo socks, ay."
It's a badly needed dose of body positivity that women with stretch marks — and the people who love them — are absolutely loving.
Watch the new video below:
The rapper released another single titled "The Heart Part 4" earlier this month. His new album is expected to drop in April.