When is 'Pokémon Go' Android Wear coming out? Android 2.0 release date could be key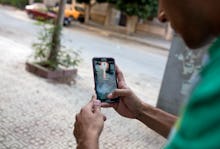 Although Apple Watch users have had their own version of the Pokémon Go app for some time, Android Wear users have been left out in the cold. For a while, the only detail regarding the rumored Android Wear app was a piece of code discovered in December that mentioned Android Wear by name and promised some version of Bluetooth connectivity. Since then, it's been radio silence.
However, some players are hopeful that Android Wear 2.0 might be what gives long-suffering users of Google's smart watch their own taste of portable Pokémon Go. Find out why below.
Pokémon Go Android Wear release date might be delayed for Android Wear 2.0
A post on the Silph Road by a user named SpiritTalker laid out a theory as to why there hasn't been much new information about the Android Wear version of Pokémon Go, especially when Apple has had a wearable version of it since the end of last December:
PoGo will be released to AW watches after the 2.0 update occurs. I think it showed up in the data mined from Niantic because they were probably ready to release it, but since Google delayed the release of AW 2.0, it too got pushed back. That also explains the large time gap bewteen iOS release & AW release.
With the rollout of 2.0 slowly beginning, it remains to be seen whether or not we'll be seeing an Android Wear update coming soon, but this seems like a compelling argument in lieu of more concrete data from Niantic and Google. Unfortunately for many Android Wear users, a bug is preventing the 2.0 rollout for many of the older smart watches, even a good six weeks after the update has officially been out. 
So even if Niantic was able to release a Pokémon Go app for Android Wear 2.0 in the near future, there's still a chance you wouldn't even be able to download it on your Android Wear watch in the first place. 
What would Pokémon Go for Android Wear look like?
It seems like a safe bet that Pokémon Go for Android Wear would like very similar to the Apple Watch version. That is to say it would basically function as a glorified health app — tracking your steps while allowing you to hatch eggs and get buddy candy. It seems pretty unlikely that Niantic would develop an app that's markedly different than one that's already available for a similar platform.
But until the Android Wear 2.0 rollout is more stable, we're not likely to get more information about any sort of Android Wear Pokémon Go app. Hopefully, Niantic will roll out an official port soon after that.
More Pokémon Go news, updates, tips and tricks
Check out Mic's Pokémon Go guides on how to get stardust, how to determine how long it will take you to reach level 40, the kind of Pokémon you get from 10km eggs, how to create new PokéStops, how to maximize your chances of catching Pokémon and how PokéStops distribute Pokémon eggs. Also check out how to catch Gen 2 baby Pokémon, our analysis of post-balance update Chansey and Rhydon and everything you need to know about finding the long-awaited Pokémon Ditto.