Nintendo Switch Warping and Bending? Dock design may be to blame for curved consoles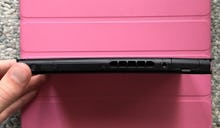 The Nintendo Switch release date has seen no shortage of problems — though it has seen a significant shortage of stock. From screen-scratching to reviewers tasting games, the launch of the Nintendo Switch has been a notable one. Now there's a new issue surrounding the console: Nintendo Switch units reportedly bending and warping.
Is this Nintendo's bendgate? or are reports of bending and warping Switch units overblown? Let's find out,
Nintendo Switch warping or bending: The new bendgate?
The problem isn't as drastic as this bend test, but the actual bending issue could be widespread. The hardware problem first came to light when Reddit user _NSR noticed the tablet portion of their Nintendo Switch had become curved. As seen in _NSR's photo above and video below, the right side of the device has started to bend. Initial speculation hints because the Switch was being mainly used in the dock, which apparently generated enough heat to somehow warp the device. However, other Switch owners have chimed in to argue that this may not be the case.
Reddit users like Magnaha23 and Big_Beers noticed similar bending on their Switch units. While others like banzaiburrito show off a perfectly straight Switch. Here at Mic, both of our Switch units are mostly flat with no bending to show, but the same can't be said for other folks on Twitter.
Some have noted that the front of their Nintendo Switch dock is at an acute angle bending inwards. Which, combined with a bent Nintendo Switch, could have lead to those screen scratches we'd heard about before. Here's what it looks like according to @DJdingus on Twitter.
It's tough to say what's happening here. There's a chance that some Nintendo Switch units are shipping out of the factory already slightly bent, or it's possible that the shape of the dock is affecting the console. There's also a chance that, after extended playtime, the heat of the dock could be warping the Nintendo Switch. Though in our tests, the console never quite got hot enough for this to happen. As with most gadget launches, it's generally best to wait until Nintendo sorts out all the initial bugs before taking the $300 plunge to buy a Switch anyway — as if you needed more reasons to stay away from GameStop's bundles.
Mic has reached out to Nintendo for comment and will update with any response.
April 3, 2017, 4:15 p.m. ET: This story has been updated.
More Nintendo Switch news and coverage
Looking for more Nintendo Switch news? Check out how blind gamers are using the Nintendo Switch. Nintendo's left Joy-Con issue turns out to be a hardware problem — find out how to solve it. Find out how to buy a console amidst the recent restock. Learn why the Switch cartridges taste so bad. Check out our comparison photos sizing up the Switch to the Wii U GamePad (part one and part two), or find out how to make use of ethernet without the dock and the best way to get alerts when new stock arrives.