Paul Ryan: Why 2017 has been a horrible year for the embattled GOP speaker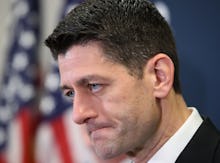 House Speaker Paul Ryan probably thought 2017 was going to be a good year for him. His party held onto its majority in the Senate. Mitch McConnell successfully stalled on holding a hearing for Merrick Garland, former President Barack Obama's nominee to replace Antonin Scalia on the Supreme Court. 
And Donald Trump, against all odds, became president of the United States. The icing on the cake was that Trump named Reince Priebus, a longtime Ryan ally, as White House chief of staff, giving Ryan a direct line to the president, whom he had often butted heads with during the campaign.
Ryan's wonkish strain of libertarianism looked ascendant. Democrats wept and gnashed their teeth.
Then, something happened. 
By a combination of his own doing and the president's, Ryan's agenda is going nowhere, his stature among his fellow Republican lawmakers has never been lower and even his own constituents seem concerned about his ability to get things done.
A series of unfortunate events
On April 1, more than 100 people gathered in Racine, Wisconsin, to ask the speaker of the house to oppose the president's agenda on a range of issues: deportation, health care and the travel ban among them, according to local news.
The next day, on April 2, which is World Autism Awareness Day, Ryan was lambasted on Twitter for wearing an autism awareness pin. Twitter users pointed out that Ryan wants to repeal the Affordable Care Act, which prevents insurance companies from denying coverage based on pre-existing conditions like autism.
The American Health Care Act, which Ryan and company wrote to replace the ACA, wouldn't have done away with the pre-existing conditions mandate, but it would have relaxed the definition of "essential" benefits, possibly allowing insurers to provide less comprehensive coverage to those with such conditions.
Little hope in sight
The failure of the AHCA was especially embarrassing for Ryan. Despite having seven years to write a bill with support from Republicans, members of Ryan's party from the right and the center balked at the AHCA: Moderates said it would reduce coverage for poor Americans, while conservatives said it didn't go far enough in stripping the protections Obamacare provided.
In a call with donors on March 27, Ryan said Republicans are "still moving forward on health care with other ideas and plans," despite having said on March 24 that, "we're going to be living with Obamacare for the foreseeable future."
What all of this means is that Ryan's approval among Republicans, and Trump voters in particular, is dropping. A recent Economist/YouGov poll shows Ryan's approval rating among both groups has dropped in the wake of the AHCA's failure. 
The previous week's poll, published March 15, showed 59% of Republicans approved of Ryan. Today, that number is 47%. Trump voters, meanwhile, who already looked on Ryan less favorably than other Republicans, also approved of the speaker 12 points less than a week ago.