Sarah Michelle Gellar says her cooking journey has made her "more and more fearless"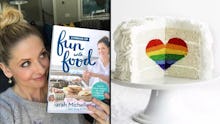 "I've always been crafty," Sarah Michelle Gellar says while mixing cubed butter and lemon zest in a bowl to make her lemon poppy seed cupcakes, a recipe inspired by a bakery she adored as a child. 
"There are all these different ways you can be creative now, it's not just making a film or TV," Gellar continues, stirring with the Manhattan skyline glimmering behind her. "My whole life I've created stuff, but it's kind of abstract, this is tangible," she says of the recipe she's demonstrating in Good Housekeeping's 29th-floor test kitchen in Hearst Tower. 
The location brings Gellar full circle: While living in New York City, she relied on takeout everything, but after moving to Los Angeles, the Buffy The Vampire Slayer star learned that takeout everything, anytime is not so much a reality of the cool California lifestyle. And upon becoming a mom seven years ago, Gellar, who is married to culinary school graduate Freddie Prinze Jr., realized that she wanted to make cooking and being in the kitchen a priority in her life. 
"Memories happen around a table... it's about connecting," Gellar said. "I worry that we're starting to lose those moments and connections. Are my kids going to have memories where they remember being around a table with me?"
Gellar's kids, 7-year-old Charlotte and 4-year-old Rocky are "obsessed with cooking shows," Gellar said, noting she encouraged keeping their young eyes on the Food Network rather than trashy kids programs. "How do you not encourage your children to watch something that's a lifelong skill?" 
Like many a Barefoot Contessa enthusiast, Gellar's daughter wanted to start baking IRL, not just watch it on TV. But Gellar found online recipes "too intimidating" and didn't like that store-bought mixes had high salt contents, dyes and other ingredients and chemicals that Gellar didn't recognize. 
Still, Gellar was determined to bake at home. 
Cooking with staple ingredients
She started researching ingredients, prioritizing staple ingredients and dry goods that aren't always leading healthy eating conversations that favor organic green juices and front-of-the-store produce. "You forget about the staples," Gellar said. 
This all led her to co-launch Foodstirs, organic, GMO-free baking mixes made with six ingredients or less, which adhere to the "dump and pour" method of baking Gellar was comfortable with. Ingredients in Foodstirs mixes, which range from cookies to brownies to cakes, include multigenerational heirloom wheat and Equal Exchange Cocoa (which Gellar says is "more fair than fair trade") in efforts to not only get us eating better, but to get Foodstirs bakers to start talking about where their ingredients come from. 
"Ingredients don't just show up on Instacart," Gellar laughed. "We talk about where it's grown. [This is] what we want our kids and the next generations to think about." Though her kids are fans of fancier foods like mussels and Brussels sprouts, Gellar knows baking together, especially using her base mixes and doctoring them up with fresh fruit and seasonings, is a good way to spend time in the kitchen together. 
Gellar's new cookbook, Stirring Up Fun With Food, does just that. Her lemon poppyseed cupcakes originated with a box of vanilla cake mix, stirred with poppy seeds, lemon zest, lemon juice and other easy add-ins, an almost Easy-Bake-Oven style of learning to bake that even celebrities can master. 
"Failure is your first attempt at learning. The most risk brings the most rewards." — Sarah Michelle Gellar
"Five years ago, I would have laughed really hard at being here," Gellar said of her move from actor to cookbook author. "But there are so many facets to me. When I started [my career], I was doing a soap opera and people said soap opera people don't do TV shows. In a year I got Buffy. Then, I wanted to do movies." And of course, Gellar has done it all. "Failure is your first attempt at learning," she said of her openness to take risks. "The most risk brings the most rewards." 
Gellar says she's learning "how to do this as I go," experimenting more with baking and ingredients just like any other person, former vampire slayer or first-time cook. Moving out of her comfort zone. Gellar said Foodstirs and her first cookbook project are attempts to to challenge herself. "It would be very easy to step on to another TV show," she said. Discovering the perfect salted brownie recipe? Not so simple. 
"I'm finding it's a great outlet and creative," Gellar said. "I enjoy the time I'm in the kitchen to unwind. I'm becoming more and more fearless." 
On making her baked goods Insta-perfect 
"The more aesthetically pleasing something looks, the more likely you are to try it," she said. "Sometimes it's as simple as putting it in a muffin tin, or on a stick or in a jar." See: Gellar's corn dog cupcakes or latkes on a stick and the many, many more adorable creations she shares in Stirring Up Fun With Food.
"All you want to do is do something that people remember and ultimately means something to them," Gellar said of this tasty shift in her career.  "This journey has been the icing on the cake."
Stirring Up Fun with Food: Over 115 Simple, Delicious Ways to Be Creative in the Kitchen hits bookstores on April 4, 2017.