'Persona 5': Everything you need to know about difficulty trophies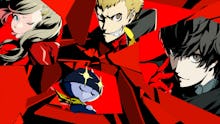 Persona 5's trophies are tied to both narrative events in-game and optional quests, and that coveted Persona 5 Platinum trophy will be high on a trophy hunter's list. One in particular is the set of difficulty trophies that you typically see in games like these, rewarded when you complete the game on a higher difficulty. We've got the cards laid out for Persona 5's difficulty trophy!
Persona 5 difficulty trophies: What you need to know
While Persona 5 does have a considerable amount of trophies, I didn't manage to uncover any difficulty-specific completion trophies. This is great news for those of us who only want to go through the game on a single difficulty. Choose the difficulty that best suits you and you'll still be able to nab the Platinum trophy with no issue. 
This should make playing through and getting all of your other trophies a little easier. Though don't take that as a sign that the game's going to be a cinch, because it's certainly not "easy"... unless you want to play on that difficulty. But even then, the Persona 5 experience is multilayered, no matter what difficult you play it on.
Happy trophy hunting!
More gaming news and updates
Check out the latest from Mic, including our deep dive into how female Overwatch players are dealing with online harassment, a cool making-of video for Legend of Zelda: Breath of the Wild and an article about what a Bechdel test for gaming might look like.