The Pink Star diamond is the most expensive gemstone ever auctioned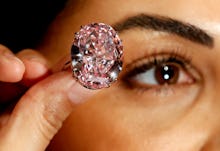 The Pink Star is a rare gem — literally. It's the biggest pink diamond ever known and on Tuesday it was sold by Sotheby's in Hong Kong for $71.2 million, making it the most expensive diamond or gemstone ever auctioned. The buyer was Chow Tai Fook, a jewelry retailer based in Hong Kong.
At 59.6 carats, the Pink Star is "the largest 'Internally flawless,' 'Fancy Vivid Pink' diamond that the [Gemological Institute of America] has ever graded," Sotheby's explains.
It took diamond company Steinmetz Diamond almost two years to cut the rough stone, which was discovered in 1999 by workers mining on behalf of De Beers in Botswana. The Pink Star was first introduced to the public in 2003, when the Financial Times hailed it "the rarest, finest, most precious stone the world has ever seen," according to the Sotheby's brochure. 
In 2013, Isaac Wolf, a diamond cutter in New York, actually tried to buy the special gem for $83 million in Geneva — but he might have overestimated his millions, as he later had to default on the purchase.
Before Tuesday, the world record for an auctioned gem was held by the Oppenheimer Blue, which in May 2016 was auctioned by Christie's for $57.5 million. The Blue was also previously owned by the De Beers family.
Naturally, the Pink Star is too special for just one record. On Tuesday, it also became the most expensive pink diamond ever auctioned.
Its predecessor was the Pink Graff, which auctioned in November 2010 for a mere $46.16 million. At a paltry (or astonishing?) 24.78 carats, the Pink Graff is only half the size of the Pink Star.
Suffice it to say, the Pink Star's rich history will be a tough one for other gems to compete with.
Hoping to wow a potential fiancée — or fiancé — with a big, gorgeous diamond engagement ring? Here's Mic's guide to picking out a romantic choice that won't break the bank.
Sign up for The Payoff — your weekly crash course on how to live your best financial life. Additionally, for all your burning money questions, check out Mic's credit, savings, career, investing and health care hubs for more information — that pays off.