Pepsi's Kendall Jenner ad is trying to 'Buy the World' like Coca-Cola did in the 1970s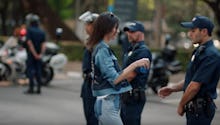 Pepsi's new ad starring Kendall Jenner is causing a big stir, but the company is really just taking a page out of rival Coca-Cola's playbook. 
The ad, released on Monday, features Jenner at a modeling shoot while a protest for who-knows-what is happening outside. Slowly, observers — including who the Los Angeles Times described as an Asian musician and a Muslim photographer — become active participants. Then Jenner takes off her wig, leaves the cameras behind and joins in, too. 
In the penultimate scene that seems to mimic photographer Bernie Boston's iconic "Flower Power" photo of 1967 in which a protester at the Pentagon sticks a flower in an officer's rifle, she walks up to a police officer and offers him a Pepsi.
The commercial's being roundly mocked on Twitter for its blatant attempt to co-opt today's political resistance movements in an effort to sell sodas. On Wednesday afternoon, the company pulled the ad, the Daily Beast reported. 
"Pepsi was trying to project a global a message of unity, peace and understanding, Clearly, we missed the mark, and we apologize. We did not intend to make light of any serious issue. We are pulling the content and halting any further rollout. We also apologize for putting Kendall Jenner in this position."
But it's not the first big soda company to tap into these movements. Back in 1971, in the thick of the United States' War with Vietnam, Coca-Cola changed advertising forever when it released a commercial called "It's the Real Thing." It struck a different chord than Pepsi did this week. Instead of focusing on feel-good political movements, it brought together a multiracial cast of characters — the campaign's code name was literally "Buy the World" — and tried to trumpet the message that peace and harmony are possible amid political turbulence. 
Certain themes were the same. Just like in Pepsi's ad, race, nationality and religion weren't seen as divisive, but unifying forces. The anchoring force of the ad was a song, sung by a sea of bright-eyed, multiracial, Coke-holding masses, standing atop a hill and belting out, "I'd like to buy the world a Coke."
Author Jeff Chang wrote about the ad in his book, Who We Be: The Colorization of America, which was excerpted in Slate:
Imagine, in a season of racial division, imperialist deception, capitalist malaise and national despair the whole world gathered upon a hill sharing a fizzy brown drink. It might look like a picture of renewed American faith. Buying a Coke was like buying the world shelter and peace.
The ad was one of the first in American consumer history that seemed to celebrate America's multiracial identity — and it provided a blueprint that the company has followed in recent years, including in a 2017 Super Bowl ad that celebrated U.S. diversity. 
Of course, it also sanitized the political realities of the moment. Not only was the war in Vietnam claiming hundreds of thousands of Vietnamese and American lives, but Third World resistance movements were growing on United States college campuses, women were burning their bras to protest patriarchy, a burgeoning gay rights movement was popping up in cities across the country, and the Nixon White House was gaining enemies by the day.
As Chang wrote, "In this era of fragmentation and unrest, it was time for the universal drink ... to reassert some alpha swag." 
In this case though, Pepsi failed to do so by a long shot.
April 5, 2017, 1:20 p.m.: This post has been updated.