Who is Erik Prince? What to know about the Blackwater founder's Trump connection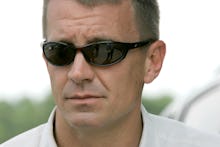 On Monday, the Washington Post reported that Erik Prince, brother of Education Secretary Betsy DeVos, attended a meeting with "a Russian close to Vladimir Putin" in the Seychelles Islands arranged to establish an informal line of communication between Russia and Donald Trump.
The news further inflamed speculation from Trump's opponents about his ties to the Russian autocrat. After Trump's victory in 2016, it was revealed that Russian hackers attempted to sway the 2016 U.S. presidential election in Trump's favor, leading to investigations by the FBI, the House and the Senate.
But who is Erik Prince, the man who reportedly acted as intermediary for Trump and Putin?
He is the founder of Blackwater
Until 2010, Prince was a soldier of fortune. According to transcripts from a 2007 House Oversight Committee hearing, after four years as a Navy SEAL, Prince left the service and founded Blackwater Worldwide, a private security company, in 1997. His goal was "to do for the national security apparatus what FedEx did for the Postal Service," Rep. Henry Waxman (D-CA) said during the hearing.
Blackwater's business expanded rapidly, according to transcripts of the congressional hearing. What began as essentially a program for training military and law enforcement personnel soon became a full-fledged private military operation. In 2000, the federal government awarded Prince's company $204,000 in contracts. By 2007, that number had ballooned to more than $1 billion — a nearly 500,000% bump — according to congressional testimony.
But Blackwater's methods, and the increasing role of private contractors in foreign wars, created controversy. In 2007, Blackwater contractors killed 17 Iraqi civilians and wounded 20 others, creating an international incident. Eventually, a U.S. court sentenced one of the contractors to life in prison and three others to 30-year jail sentences for the killings.
With public scrutiny mounting, Prince's company rebranded itself in 2009, taking the name XE Services. In 2010, Prince sold the company to a group of investors, who changed the name again, this time to Academi.
He's worked with other countries
After leaving Blackwater, Prince has been dogged by allegations of repeatedly attempting to establish private armies for countries that are not particularly friendly with the U.S.
In 2016, left-leaning news site the Intercept reported that Prince had partnered with China's largest state-run investment group to found a new company, Frontier Services Group, based in Hong Kong. While FSG doesn't officially offer military services, the Intercept reported:
Since 2014, Prince has traveled to at least half a dozen countries to offer various versions of a private military force, secretly meeting with a string of African officials. Among the countries where Prince pitched a plan to deploy paramilitary assets is Libya, which is currently subject to an array of U.S. and United Nations financial and defense restrictions. Prince engaged in these activities over the objections of his own firm's corporate leadership. Several FSG colleagues accused him of using his role as chairman to offer Blackwater-like services to foreign governments that could not have been provided by the company, which lacks the capacity, expertise, or even the legal authority to do so.
More recently, Prince is said to have offered his services to China. According to BuzzFeed News, FSG has offered to establish two "Blackwater-style training camps" in China's Yunnan and Xinjiang regions. The move enraged top executives at FSG, including former CEO Gregg Smith, who said he quit over Prince pushing FSG into the mercenary business. "He's been working very, very hard to get China to buy into a new Blackwater," an anonymous source credited as a "former associate" told BuzzFeed. "He's hell-bent on reclaiming his position as the world's preeminent private military provider."
He is a longtime Trump supporter
Prince, and his family, are longtime supporters of President Donald Trump. In 2016, the Daily Beast reported that Prince donated $100,000 to Make America Number 1, a pro-Trump Super PAC. Prince's mother, Elsa Prince, also gave $50,000 to the PAC. The PAC is managed by Rebekah Mercer, daughter of hedge fund billionaire Robert Mercer. The Post, in its story on Prince's Seychelles meeting, reported that Prince's contribution to Trump's campaign and pro-Trump Super PACs was $250,000.
The Mercers gravitated to Trump after backing U.S. Senator Ted Cruz. Their data analytics firm, Cambridge Analytica, was hired by both Cruz and Trump. Their political ideology remains somewhat unclear, but the Atlantic reported they've donated to a wide range of conservative political causes. Prince reportedly attended the Mercers' annual costume party in December 2016 alongside Trump and other Trump camp standbys, including tech billionaire Peter Thiel.
But Prince's contributions to Trump aren't simply monetary. As early as January, the Intercept reported that Prince had been advising Trump on matters of defense and intelligence. Prince is also a frequent guest on Breitbart radio. Before he became the president's senior strategist, Breitbart was headed by Steve Bannon. In July, 2016, Prince gave Bannon a "three-point plan" for eliminating the Islamic State terror group. Prince's plan included a program similar to the "Phoenix Program" run by the CIA in the Vietnam War, which reportedly led to the torture of North Vietnamese captives.
White House press secretary Sean Spicer told the Post that Prince had "no role in the transition."
His sister is Education Secretary Betsy DeVos
Prince is the brother of billionaire Secretary of Education Betsy DeVos. Before marrying AmWay billionaire Dick DeVos in 1980, DeVos was Betsy Prince, daughter of another billionaire: Edgar Prince. The DeVos clan are longtime backers of GOP politicians. According to Huffington Post, the family has donated more than $200 million to the "current crop of Republican senators" since 1980.