Steve Bannon and Sean Spicer are somehow polling worse than Donald Trump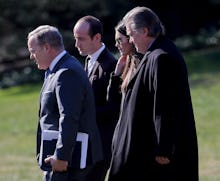 Donald Trump is polling badly. Historically badly. It takes most presidents years to achieve the level of unpopularity it's taken Trump less than 100 days to reach. 
Somehow, Sean Spicer and Steve Bannon are polling even worse.
Trump at record low approval rating
In his eight years in office, President Obama never reached the lows Trump is currently experiencing. Only 35% of Americans approve of Trump, a recent Quinnipiac poll found, while 57% disapprove. 
It's worth nothing that white men, often considered Trump's base, still approve of the president, though just barely: 47% approve, while 44% disapprove.
Much of this likely has to do with Trump's inability to accomplish much of what he promised on the campaign trail. He came into Washington promising to "drain the swamp" but has, so far, yet to drain it. There was the immigration ban, which stalled in the courts, and the second immigration ban, which did the same. Then there was the Affordable Care Act repeal, which failed before it could even reach the House floor. And, of course, there's the constant trickle of new stories about the Trump team's connections to Russia.
"President Donald Trump continues to struggle, even among his most loyal supporters," Tim Malloy, assistant director of the Quinnipiac University Poll, said in a statement.  "Many of them would be hard pressed to see even a sliver of a silver lining in this troubling downward spiral."
Spicer and Bannon's ratings are even worse
Still, it could be worse for Trump. He could be polling as low as Spicer or Bannon. The White House press secretary and top strategist, respectively, are even less popular than their boss, Quinnipiac found. 
A mere 20% of Americans have a favorable view of Spicer, while only 11% have think well of Bannon. Both men also have high unfavorable ratings: Spicer's is 49%, while Bannon's is 45%.
News broke Wednesday that Bannon has removed from his post on the National Security Council. His placement there was controversial, and some media reports claimed that Trump placed Bannon on the Council without realizing what he was doing.
Trump's team might be dragging Republicans in Congress down with them, too. 
Speaker of the House Paul Ryan is viewed worse than Trump at 28-52, while Senate Majority Leader Mitch McConnell received an even worse score: 14-147. McConnell's Democratic counterpart, Senate Minority Leader Chuck Schumer, fared little better, though, earning only a 25-36 rating.
"As President Trump's approval tanks, Congress, especially Republicans, follow right behind him," Malloy said.