'Persona 5' Sell Treasure: Guide, tips, tricks and everything you need to know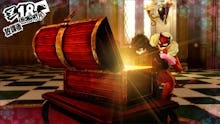 Persona 5 is all about treasure, in one way or another. The Phantom Thieves you play as are out to steal hearts along with the special treasures found in palaces. But what do you do with the treasures you end up with? Sell them, of course. 
Here's everything you need to know about selling treasure in Persona 5. 
Persona 5 sell treasure: How to get it and what to do with it
As you explore palaces, you'll come across various treasures after defeating enemies or just opening up treasure chests. You'll want to save these treasures and sell them when you can.
The more important treasures are those that appear as corrupted hearts for the Phantom Hearts to steal. You'll happen upon these when you near the end of a palace. They will appear as distorted, cloud-like imagery in a special location, but after you send your calling card, they will materialize. 
Once you claim the treasure, after defeating the boss of the palace, take it to the regular world. You can sell it to any willing vendor in exchange for cash to buy medicine and other gear for your squad.
More Persona 5 news, updates, tips and tricks
For more on the latest entry in the Persona series, check out the rest of what Mic has to offer. Here's a guide on how to capture Personas, and here's one on building relationships with the game's Confidant system.