'Chewing Gum' creator Michaela Coel gets real about "post-traumatic slave syndrome"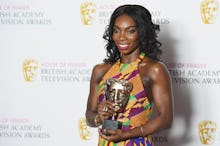 British comedy writer Michaela Coel takes a no-holds-barred approach to her breakout hit Netflix series Chewing Gum, so it only makes sense that she'd take the exact same approach to talking about her real-life experiences with colorism.
The second season of the show debuts this week and, like its predecessor, is filled with vulgar, hilarious, awkward and deeply uncomfortable moments. One of those moments includes the main character, Tracey (played by Coel), dressing up in racist tribal garb to try to please a white date and finally succeed in her never-ending quest to lose her virginity.
"I think the foundations of racism are ridiculous," Coel said in an interview with the Fader. "I also do know that racism comes with a lot of pain, violence, murder, rape, slavery — and those [issues] are covered by people that don't write comedy."
She also unpacks her own experiences in the dating world. At one point, she gets brutally honest when she talks about the perception that black men aren't attracted to dark-skinned black women. 
"The reason why maybe my own race isn't interested in me is because they have post-traumatic slave syndrome," she said. "Before slavery, I don't think [black men] looked at women and thought, 'Urgh.'"
She continued: "There's a few amazing black men out there that are intelligent and have done the math, have unpicked their mindset, and see things from a broader perspective."
And then she talks about the impact she hopes her show can have on dark-skinned black women who battle against the perceptions that they're unattractive. 
"One of the things I want to say to all these dark-skinned girls who are actually feeling sad about that, is: Why would you want to waste your time on guys like that? Why would you want to waste your time with anyone like that?"
Those are bold, and obvious, words of affirmation from one of the most creative young minds in comedy. The interview also touches on the new generation of black comedic writers who are writing openly and explicitly about black social outcasts, folks like Issa Rae with HBO's Insecure, and Donald Glover's FX show Atlanta. It's a bold and brave new world of television, and people like Coel and company are leading the way.