What happened to Richard Simmons? Reclusive fitness guru may be plotting his return.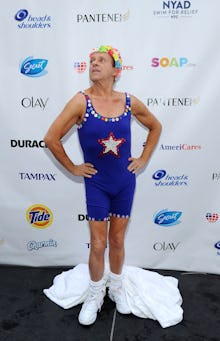 Every day, we ask the question, where in the world is Richard Simmons? Well, it looks like we may soon have the answer. 
As we know, the fitness guru and legend has not been seen in public in three years. While we're all obsessed with the podcast, Missing Richard Simmons, his family and those closest to him have had to shoot down many rumors about his absence. 
We've learned he's not sick, that he isn't being held hostage by his housekeeper and that he has not transitioned. While there are still countless theories out there as to what exactly he is doing during his time away, we may finally have our answer. 
It's being reported that Simmons just signed a new business deal that could change everything for him. Simmons has signed with Prominent Brand + Talent and they have rights to his merchandising, licensing and endorsements. You hear that, Kardashians? Watch out. 
According to ABC News, products by Simmons will be sold at retailers like Walmart, as well as through QVC. It looks like Simmons is gearing up to rebuild his own fitness empire and this is just the beginning. 
Simmons' manager, Michael Catalano, said there is a strong possibility that Simmons returns to the public eye to promote this new venture. "All I can say, at least for now, it is possible," he said. "But it is yet to be determined, I would say," Catalano told the New York Times in an interview. 
For Catalano and Simmons, the new products are about inspiring his fans. "We're talking about inspiration-themed products that will hopefully accomplish what Richard really set his life's work to do, which is to help people take better care of themselves. We're not licensing tires and party hats," he revealed. 
It looks like we'll have to wait and see if Richard Simmons makes his grand return to the public this year. 
Mic has ongoing celebrity coverage. Please follow our main celebrity hub here.