Robert Bentley: Could Alabama's governor face impeachment over ethics investigation?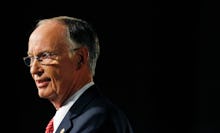 Alabama's Republican, family values-touting governor Robert Bentley's future in politics may soon come to a premature end, thanks to allegations that he carried on an affair with a staffer and used his office to cover it up and pressure those who knew about it.
On Wednesday, April 5, a state ethics commission said Bentley, whom local media has christened the "Luv Guv," may have violated campaign finance laws. On Friday, April 7, Alabama's House Judiciary Committee will receive a report from its special counsel, Jack Sharman, outlining Bentley's alleged impeachment investigation. Impeachment hearings are set to begin on Monday, April 10, CNN reported.
Alleged affair
Bentley's travails began in 2015, when his wife of 50 years, Dianne Bentley, filed for divorce. From her divorce filings the public learned that the Bentleys had been separated for about seven months, despite keeping up the appearance of a happily married couple in public.
Then, on March 22, 2016, Alabama's former law enforcement secretary, Spencer Collier, who Bentley had fired the same day, held a press conference at which he claimed Bentley had been having an affair with his chief adviser, Rebekah Caldwell Mason, since at least 2014, and had used state resources to cover it up. 
Bentley initially admitted to speaking inappropriately to Mason, but denied having a sexual relationship with her. The day after Collier's press conference, recordings of conversations between Bentley and Mason, allegedly captured by members of Bentley's own family, were released. The recordings cast new light on Bentley's comments. In them, Bentley described touching Mason's breasts and buttocks.
Under pressure to resign
Since then, Bentley has been under pressure from Alabama Republicans and Democrats to step down or face impeachment. Republican Rep. Ed Henry told CNN impeaching Bentley is "one of the few truly bipartisan issues."
Bentley faces four charges, or articles, of impeachment: willful neglect of duty, corruption in office, incompetency and moral turpitude. While having an affair isn't illegal in Alabama, Bentley's critics argue it makes him unfit to be governor.
Bentley is expected to respond to Sharman's report by Tuesday, April 11. If the House Judiciary Committee recommends impeachment then, under the current schedule — which Bentley is fighting — the state's House will consider it by May 20, according to local news reports.