Trump voters continue to be shocked when their immigrant friends get deported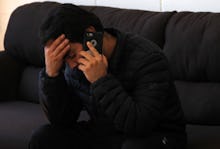 Roberto Beristain was deported to Mexico Tuesday night, ending a months-long debacle that saw the Indiana restauranteur detained at ICE facilities in six different states and rushed across the border under cover of darkness.
Beristain's wife — Helen Beristain — voted for Donald Trump in November. Her husband's deportation proceedings have been a wake-up call she apparently did not see coming.
"[Trump] did say the good people would not be deported, the good people would be checked," Helen told Indiana Public Media in March. 
When Donald Trump was campaigning, he regularly framed undocumented people as criminals. He only rarely distinguished between "good" immigrants and so-called "bad hombres," and trumpeted an agenda that's been unambiguous about wanting to round up millions of "illegals" and deport them en masse either way.
Yet despite Trump's promises — and a temperament that indicated he had little interest in nuance — Trump voters continue to be shaken when the president's policies affect them and the people they care about.
"I wish I didn't vote at all," Helen told the South Bend Tribune in March. "I did it for the economy. We needed a change."
Roberto Beristain has never been convicted of a crime. He owns a steakhouse in Granger, Indiana, and has been living in the United States since 1998. He has three children with Helen, according to reports, and has become such a sympathetic figure in recent months that Democratic South Bend, Indiana, Mayor Paul Buttigieg wrote an op-ed for the Huffington Post defending him.
"It is a good day to remember that those of us who believe in a great America need to ask tough questions about policies that amount to a solution in search of a problem," Buttigieg wrote. "Tearing apart a community, a business and a family will make America worse off, every time."
The Washington Post reported that Roberto tried to warn his wife that Trump would "get rid of the Mexicans" if he won the election. Helen didn't listen. Then in January, Trump signed an executive order empowering ICE officials and law enforcement to ramp up deportations of undocumented people, setting in motion a wave of roundups targeting immigrants like Roberto. 
Today, Roberto is back in Mexico, where he hasn't lived for nearly 20 years. And Helen Beristain is not the only Trump voter feeling indignant about the president's immigration policies once they became real: In February, the New York Times published an article about the coal mining town of West Frankfort, Illinois, whose conservative residents were surprised to learn that their candidate's vitriolic attacks on undocumented people included Carlos, the manager of one of their favorite local Mexican restaurants.
"I knew [Carlos] was Mexican, but he's been here so long, he's just one of us," Debra Johnson, a resident, told the Times. 
In February, Public Radio International reported a story about Sarmad Assali, a Syrian American resident of Allentown, Pennsylvania, who also voted for Trump. After the president's executive order restricting immigration from seven Muslim-majority countries — including Syria — Assali "watched two of her brothers-in-law, their wives and children get deported back to Damascus," even though they had visas.
"It was a shock," she said. "If [Trump] had an issue with them entering the United States, we should have been told about it. It should have been discussed."
It's unclear how much more straightforward Trump would've had to be for his supporters to not be shocked when his promises came to fruition.