Devin Nunes: A recap of the House intel chair's disastrous Russia investigation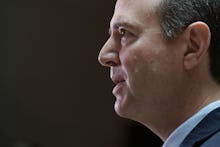 On Thursday, House Intelligence Committee Chair Devin Nunes (R-Calif.) announced he was stepping down from the committee's investigation into possible Russian meddling in the 2016 U.S. presidential election. Nunes' decision came on the heels of accusations, mostly by Democrats, that Nunes broke ethics rules during the course of the investigation. 
Nunes called the allegations "baseless."
His duties on the committee will be taken up by Rep. Mike Conaway (R-Texas).
Nunes' decision to remove himself from the investigation has been a long time coming. Here's a rundown of how it came to happen:
November 11, 2016: The Trump campaign announced Nunes would join the president-elect's transition team.
January 25: Nunes and Adam Schiff (D-Calif.), the ranking Democrat on the House Intelligence Committee, announced that the committee would begin looking into "any intelligence regarding links between Russia and individuals associated with political campaigns," they said in a statement. Though they didn't mention Donald Trump by name, it was widely believed that, like the five other federal investigations into possible Russian election tampering, the House's inquiry would focus on the president's campaign and not Hillary Clinton's.
Trump claims "wiretapping"
March 4: In one of his signature early-morning tirades, Trump accused former-President Barack Obama of "wiretapping" Trump Tower, providing no evidence for the accusation. White House press secretary Sean Spicer and Trump counselor Kellyanne Conway took to the airwaves to defend Trump's tweets. Spicer called on Congress to investigate.
March 11: The Associated Press reported that Nunes and Schiff gave the Trump administration until Monday, March 13, to hand over whatever evidence of wiretapping it had.
March 13: The Department of Justice asked for more time to meet the House Intelligence Committee's demand. Spicer also appeared to back off Trump's earlier claim, telling reporters that, by "wiretapping," Trump more broadly meant surveillance.
March 15: Nunes said he didn't believe Trump Tower was wiretapped, but added that it was possible that some of Trump's communications may have been caught in a wider surveillance net, one that wasn't targeting Trump directly, but rather targeting Russian officials.
March 16: A parallel investigation into Trump's wiretapping claim by the Senate Intelligence Committee determined there was "no indication" Trump Tower was bugged. Nunes insisted the House would continue its investigation, despite the Senate not finding evidence of "surveillance by any element of the United States government."
March 20: FBI Director James Comey testified before Nunes' committee that there was no evidence that Trump Tower was wiretapped. In a blow to the Trump administration, he also confirmed that the FBI is looking into Trump's connections to Russian officials.
Nunes visits the White House
March 21: Nunes visited the White House grounds (but not the White House itself, he later clarified) to review evidence of potential surveillance of Trump associates. According to the Daily Beast, on the same day, Nunes abruptly exited an Uber in which he'd been traveling with a committee staffer after receiving a text message. He did not tell the staffer where he was going.
March 22: The next day, Nunes told reporters he had seen evidence that members of Trump's transition team were caught in the intelligence community's surveillance net. Nunes said nothing illegal happened, but added that he was "alarmed" by it. Nunes then showed his findings to Trump. Nunes' fellow Intelligence Committee member Adam Schiff said Nunes had not shared his findings with the committee. Senator John McCain called for a select committee, saying "No longer does Congress have the credibility to handle this alone."
March 23: Nunes apologized to his fellow committee members and promised to show them his findings by Friday, March 24. 
March 24: He didn't show any findings.
March 27: After news that Nunes visited the White House on March 21 broke, Schiff and other Democrats called for him to recuse himself from the investigation. "The public cannot have the necessary confidence that matters involving the president's campaign or transition team can be objectively investigated or overseen by the chairman," Schiff said.
March 28: The Washington Post reported that the Trump administration sought to block former-Acting Attorney General Sally Yates, whom Trump fired in January for refusing to enforce his immigration ban, from testifying before Congress about Russian election meddling. The White House denied the report. Nunes canceled the week's hearings.
Nunes' sources ID'ed
March 30: The New York Times identified Nunes' sources as Ezra Cohen-Watnick and Michael Ellis, two White House officials. The revelation that Nunes' sources for possible contact between the Trump White House and Russia are Trump administration officials further galvanized Democrats, who called for Nunes to step down.
April 6: Nunes stepped away from the investigation, blaming "leftwing activist groups" and calling the ethics accusations levied against him "entirely false and politically motivated. "Despite the baselessness of the charges," he said, "I believe it is in the best interests of the House Intelligence Committee and the Congress for me to have Representative Mike Conaway, with assistance from Representatives Trey Gowdy and Tom Rooney, temporarily take charge of the Committee's Russia investigation while the House Ethics Committee looks into this matter."