After her daughter was diagnosed with alopecia, this mom made Crazy Hair Day extra special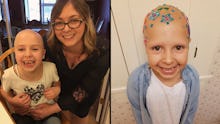 When Daniella Wride of Salem, Utah, realized "Crazy Hair Day" — the one day kids can come to school with their hair styled however they'd like — was coming up, she had a sinking feeling. 
Her 7-year-old daughter, Gianessa Wride, had recently been diagnosed with alopecia, which made her hair begin falling out in January and eventually left Gianessa completely bald. 
Knowing Crazy Hair Day was coming up was a particularly harsh blow, Wride said, since Gianessa had dressed up like a unicorn with her hair in a horn for 2016's Crazy Hair Day. But what was Gianessa supposed to do in 2017? 
"I didn't want her to feel left out, or different from anyone else," Wride told Mic. "I also didn't want to call the school and complain about the day because that wouldn't be fun for any of the other kids. So I knew that we needed to come up with something that would help her feel a part of the group."
What Wride came up with was stunning. Rather than buy Gianessa a wig, she decided to turn her daughter's head into an art canvas. 
"I went to Walmart and looked around for body paint and body glitter, but didn't really find much," Wride said. "So I kept looking in their cross-section and I found scrapbooking stickers. She's extremely into fashion and everything sparkly, so I knew it would fit her personality perfectly and help her to feel confident." 
At first, the idea didn't thrill Gianessa, who remained hesitant. 
"When I first told her about the stickers, she said she was a little nervous, but I let her pick out which ones she wanted and I made the design on her head," Wride said. "She then went and looked in the mirror and she was so excited. She said, 'Wow, this is awesome! Everyone's going to love it!'"
In the end, Gianessa opted for a sparkly design with plenty of flowers and an owl on one side of her head. 
Unsurprisingly, pictures of Gianessa's Crazy Hair Day have gone viral, something Wride could never have predicted. 
"I am truly amazed at the positive influence that she is and how well people are receiving her story," Wride said. "I just want her to feel special and recognized for how confident and beautiful she is, no matter what she looks like."
As far as the future goes, with Wride still unsure whether Gianessa's hair will ever grow back, she's already looking forward to getting creative for events like dances and proms. 
"I'm excited to embrace this and have fun trying new things with her," Wride said. "This girl is fierce and brave, way more so than I could have ever imagined. I love her more than anything."