Black Lives Matter activists condemn US missile strikes in Syria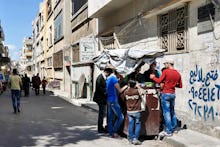 Activists in the Movement for Black Lives strongly condemned the U.S. missile strikes on a Syrian government airfield Friday. In tweets sent after news of the strikes were confirmed in a statement from President Donald Trump, leaders within the Black Lives Matter Global Network and the Black Youth Project 100, among others, expressed dismay at the U.S. intervention in Syria.
"The people of #Syria are carrying the weight of American fascism. 206,500 pounds of missiles launched by #DFT today, to be exact," the BLM Global Network tweeted early Friday morning.
U.S. officials said the military launched 59 Tomahawk land attack missiles that targeted Syrian "aircraft, hardened aircraft shelters, petroleum and logistical storage, ammunition supply bunkers, air defense systems and radars," CNBC reported. The strike was executed in response to the reported use of chemical weapons on Tuesday by Syrian President Bashar al-Assad against rebels, leaving at least 80 civilians dead from a sarin nerve gas attack.
As black and brown activists on Tuesday commemorated the 50th anniversary of the Rev. Martin Luther King Jr.'s "Beyond Vietnam" speech — the fallen civil rights icon once spoke of the links between racism, economic inequality and U.S. militarism — prominent BLM movement activists have taken an anti-war position.
On Thursday night, Patrisse Cullors, co-founder of the BLM network, called for a stop to the U.S. airstrikes in Syria.
BYP 100 executive director Charlene Carruthers tweeted Friday that the prospect of a new war hits home for her.
Speaking to the politics of the decision to launch the strikes in Syria, Dante Barry, executive director of the Trayvon Martin-inspired group Million Hoodies Movement for Justice, called for his movement counterparts to get more sophisticated in their anti-militarism messages.
The statements from the BLM movement activists seem to confirm a prophecy that King issued when he spoke out against the war in Vietnam on April 4, 1967. He worried that unless the U.S. and other involved nations resisted the lure of the drumbeat of war, today's activists would have to mount the same resistance.
"The war in Vietnam is but a symptom of a far deeper malady within the American spirit," King said. "And if we ignore this sobering reality, we will find ourselves organizing 'clergy and laymen concerned' committees for the next generation."