Federal court OKs Baltimore police consent decree, despite Jeff Sessions' objections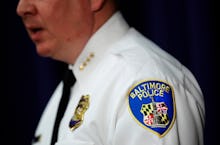 Despite Attorney General Jeff Sessions' attempts to delay its consideration, a federal court in Maryland has approved a plan to reform Baltimore's police force on Friday. The plan — brokered between the Obama administration's Justice Department and the Baltimore Police Department — seeks to address rampant racial discrimination and constitutional violations among officers against residents. 
Since his confirmation as the nation's top law enforcement official, Sessions had expressed doubts over the veracity of an Obama DOJ report of police abuses in Baltimore and signaled his intention to relitigate the 19 other consent decrees that the Justice Department is party to. But his objections over Baltimore came just a tad bit too late for serious consideration, the court said in its ruling.
Given that the Obama DOJ and Baltimore police officials have already negotiated and signed the agreement, "it would be extraordinary for the court to permit one side to unilaterally amend an agreement already jointly reached and signed," U.S. District Judge James K. Bredar wrote in the court's ruling.
Bredar also denied a Justice Department request to postpone the hearing, after it asked for the delay so that DOJ officials could review the consent decree further. The ruling allows Baltimore officials to seek an independent monitor and set up an office for auditors who will ensure police leaders make changes to address the claims that officers routinely violated residents' civil rights by making unjust stops and arrests, among other abuses and violations.
In a statement on Friday, Sessions expressed doubts that the court-approved plans could help Baltimore address its "violent crime crisis."
"While the Department of Justice continues to fully support police reform in Baltimore, I have grave concerns that some provisions of this decree will reduce the lawful powers of the police department and result in a less safe city," the attorney general said in the statement.
Sessions went on to cite a spike in violent crime and homicides in the majority-black city, and he questioned whether the mayor and police commissioner were serious enough about reform.
"The mayor and police chief in Baltimore say they are committed to better policing and that there should be no delay to review this decree, but there are clear departures from many proven principles of good policing that we fear will result in more crime," Sessions said.
Mayor Catherine E. Pugh said police reform in Baltimore would take a "collaborative effort among our state and federal partners," in a statement reported by the Washington Post. "Our goal is a stronger police department that fights crime while it serves and protects the civil and constitutional rights of our residents," Pugh said.
Initial agreement between the Obama DOJ and Baltimore police was reached in January, following the April 2015 police-involved death of Freddie Gray, which sparked days of Black Lives Matter protests and civil unrest in the Charm City. Gray, 25, died in custody after sustaining neck and back injuries during a rough ride in a police van.
Baltimore officials have already announced plans to improve safety in its paddy wagon fleet as a result of his death. But the six officers charged in connection to Gray's death were not held accountable, after three officers' court trials ended in acquittals and a mistrial. Baltimore city State Attorney Marilyn Mosby dropped charges against the remaining officers in July 2016. 
The court's approval of the consent decree drew praise from the NAACP Legal Defense and Education Fund, which had requested the court's permission to intervene if the Justice Department walked away from the consent decree. 
"As Judge Bredar noted, Baltimore cannot flourish without effective and lawful policing, and this consent decree represents the first step towards that reality," NAACP LDF president and director-counsel Sherrilyn Ifill said in a statement released Friday.
"The hard work is far from over," Ifill said. "Change does not happen overnight. But this agreement provides the necessary framework to eradicate widespread and systemic police misconduct through sustainable reform."
In a separate statement on Friday, the NAACP said it stood ready to sue Sessions and the Justice Department should they attempt relitigate or prevent other cities from engaging reform through consent decree. The Justice Department has yet to finalize negotiations with the city of Chicago, whose police department was criticized in a scathing DOJ report for using excessive force and racial slurs against residents.
Read the court's full ruling: