Trump supporter cancels woman's Airbnb reservation because she's Asian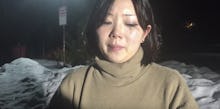 Dyne Suh was looking forward to a fun ski trip near Big Bear Lake in Southern California for President's Day weekend. She'd booked an Airbnb for herself, her husband and two friends and had almost arrived when she suddenly began to get racist messages from the would-be host, who told her the reservation had been canceled.
"I wouldn't rent it to u if u were the last person on earth," the host wrote to Suh, according to screenshots she later shared on Facebook. "One word says it all. Asian."
When Suh, who is a graduate student at UCLA, responded to say that she was planning to report the messages, the host wrote, "Go ahead," and then, "It's why we have Trump."
The host went even further, writing, "I will not allow this country to be told what to do by foreigners."
Suh's story was eventually picked up by local media. In one report, which was posted online, she called out the fact that racism has become more pointed in today's hostile political climate. 
"There are no bounds to racism, no matter what class you are, no matter what your education level, no matter if you are an American citizen," Suh explained while holding back tears. "What they see is that I'm Asian. What they see is my race, and this is how we get treated."
Suh did end up reporting the incident, and Airbnb removed the host for violating its non-discrimination policy, according to NBC4.