Atlanta brewery uses baseball bats as ingredient in new beer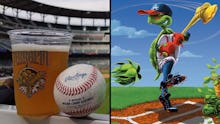 Drinking a cold, sudsy brew at a baseball game while you root, root, root for the home team is one of summer's greatest joys. Baseball and beer are simply better together.
One Atlanta-based brewery is taking that concept to the next level by brewing beer made from baseball bats. Terrapin Beer Company, a 15-year-old brewery, has created the Chopsecutioner, a light and well-balanced ale that clocks in at a modest 5% ABV. (Translation: It's light enough that you could sip it for all nine innings without feeling like you've got a load of heavy hops sloshing around your stomach.) 
Starting Friday, April 14, you can buy the beer at ATL Brew Lab, Terrapin Beer Companys's new taproom and microbrewery located adjacent to SunTrust Park, the Atlanta Braves' brand new stadium. 
When the Atlanta Braves approached Terrapin about creating a beer for the first season in the new stadium, Terrapin brewmaster and founder Brian "Spike" Buckowski knew that Terrapin's flagship beer called Hopsecutioner, an IPA with 7.3% ABV, would be too dense for the occasion. To make the beer suitable for long, hot baseball games, he lowered the ABV and decided to throw fans a curveball by using real bats during the brewing process. 
How? By letting the beer ferment with maple woodchips from Mizuno baseball bats — the very same style of bats used by MLB players sponsored by Mizuno. Do note: The woodchips were from unused bats, so germaphobes, calm yourselves. 
"After primary fermentation. we transfer the beer onto woodchips in another vessel," Buckowski said in an interview, explaining that Terrapin ages the beer with woodchips for two weeks. Next, Terrapin filters and packages the beer. 
The woodchip-aged-beer differs from your average barrel-aged beer, Buckowski noted. A barrel only has a finite amount of surface area that can impart flavor to beer. Meanwhile, a large amount of woodchips means a larger surface area that can flavor beer, which makes the aging process much quicker, Buckowski said. (Barrel-aged beer can take a year to make, much longer than the two- to three-week process for the wood-aged Chopsecutioner beer.) 
And boy, there are a lot of woodchips in the Chopsecutioner. "I think we received about 100 pounds of woodchips [from Mizuno]," Buckowski said. 
The one strike against the Chopsecutioner? You can't get it anywhere other than SunTrust Park. If you don't live near Atlanta, you're out (of luck).