Florida teacher fired for asking racist and sexist homework questions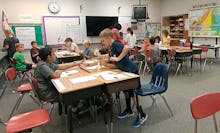 There's a careful way to teach students about racial bias, and then there's a sloppy way.
A Florida middle school teacher was fired after handing out a homework assignment that was sloppy, at best. The assignment was titled "How Comfortable Are You?" and included a list of 41 hypothetical scenarios. Students later complained that many of those scenarios were downright offensive.
Here's a sampling of the questions. You can see the full assignment here.
A group of black men are walking towards you on the street.Your dentist is HIV positive.Your brother's new girlfriend is a single mother on welfare.Your new roommate is Palestinian and Muslim.Your new roommate is gay.Your new suitemates are Mexican.The AG president in your area/hall is putting herself through school by exotic dancing.The young man sitting next to you on the plane is Arab.
Local news affiliate WPTV reports that the teacher, whom the district has not identified, intended to help students learn about and accept people's differences. But those same students complained the point of the lesson wasn't made clear. Instead, they were just left wondering why they'd been handed the assignment in the first place.
"In no way does this assignment meet the standards of appropriate instructional material," a spokesperson for the Hernando County School District told Bustle. "After being made aware of the assignment, school administration began an investigation and has taken immediate disciplinary action. This teacher was within her probationary period and has been released from employment."
The incident is proof that teaching about racism and bias in schools is an especially delicate matter, one that requires careful lesson planning.