Four people found dead at South Carolina prison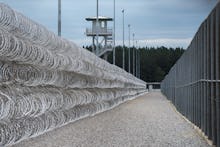 Four incarcerated people were found dead Friday morning inside of a South Carolina maximum security prison.
The South Carolina Department of Corrections identified the men as Jason Kelley, 35; Jimmy Ham, 56; John King, 52; and William Scruggs, 44. Their deaths "do not appear to be natural," Richland County Coroner Gary Watts told a CNN affiliate.
The inmates were housed at Kirkland Correctional Institution, which sits near the state capital of Columbia, South Carolina, and holds 15,000 prisoners. A spokesperson for the prison said that investigation into the deaths is forthcoming, according to CNN.
Kirkland has a violent history. In 2016, three correctional officers were fired for stabbing an inmate in the chest. The officers faced charges related to the attempted murder.
Autopsies for the men are scheduled for Saturday,