Beyoncé protégées Chloe x Halle covered Kendrick Lamar's "Humble" and it will bring you joy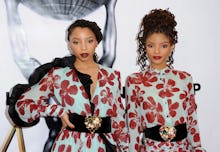 Kendrick Lamar's latest single "Humble" got Beyoncé's stamp of approval — sorta.
Chloe x Halle is an R&B duo made up of two teenage sisters out of Atlanta. They became YouTube sensations and their cover of Beyoncé's "Pretty Hurts" was so good that Beyoncé signed the two teens to her management company, Parkwood Entertainment. 
That cover's got more than 13 million views on YouTube to date.
But that's the business side. In the mean time, the two are still belting out cover songs. And it's their latest cover of Kendrick's "Humble" that's once again got the internet buzzing.
The cover is especially meaningful because it starts with Kendrick's controversial second verse, the one that praises "natural like ass with some stretch marks." The internet went crazy for its embrace of natural beauty, but critics blasted it as an example of what one Twitter user called Kendrick's "benevolent, incense-coated misogyny."
Chloe x Halle's cover doesn't make all of that talk go away. But it does show off two incredibly talented young sisters who clearly came to slay.