'Overwatch' Terry Crews Doomfist: Jeff Kaplan mysteriously deflects interviewer's question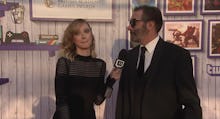 For a long time, rumors that Terry Crews might voice a mysterious villain in the Overwatch universe named Doomfist were fueled by the actor himself — but now, Blizzard is joining in on the fun, too.
During an interview at the BAFTA awards — where Overwatch took home an award for best multiplayer game — Overwatch director Jeff Kaplan expertly dodged a question about the rumor, all the while fueling the hype even more.
Terry Crews as Doomfist: Jeff Kaplan mysteriously dodges a question about the rumors
In an interview at the awards, Kaplan is asked — not so subtly — in a red carpet interview with Aoife Wilson about whether there's anything to the rumors that Crews might voice a villain who's had a mysterious presence in Overwatch since the game launched in May. Here's the transcript of the brief exchange where he and Wilson start talking about Terry Crews:
Aoife Wilson: What's your favorite thing about Terry Crews? Because mine is his voice.
In context, this tease could be read as a couple of things: Kaplan might be hinting that Crews is indeed joining the Overwatch family, but as another character entirely. Or, he's simply having a bit of fun and trying to deflect the question without deflating the hype altogether.
Either way, it's pretty impossible to tell when — if ever — we'll get our answer. The next big Overwatch update is slated for April 11, where Blizzard will reveal more about its next Omnic crisis-themed event, for which several skins leaked over the weekend.
More Overwatch news and updates
For more on Overwatch, check out the rest of what Mic has to offer. Here is a a look at a very funny but naughty meme on the Overwatch subreddit, an interview with the creator of an awesome new Overwatch zine, a full explanation of the different types of health in Overwatch, our definitive ranking of every Overwatch hero, a roundup of awesome gender-bent Overwatch cosplay and a giant Overwatch FAQ for beginners.