How 'The Fate of the Furious' cast paid tribute to Paul Walker in the eighth installment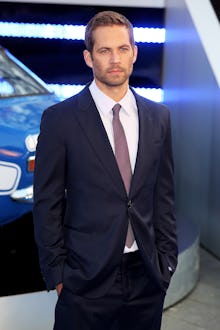 The cast of The Fate of the Furious is remembering their late cast member, Paul Walker, during the press tour for the upcoming film.
Walker died in a car accident in November 2013 after the completion of Furious 7. The film ended with a loving send-off for both Walker and his character, Brian O'Conner, who went his separate way from the heist crew. For the cast of the Fast and Furious franchise, Walker is gone but not forgotten, and the newest film is a tribute "from him." 
At the premiere of The Fate of the Furious on Saturday, Vin Diesel, Ludacris and the rest of the original cast remembered the actor. The co-stars revealed what it was like not having him around for the most recent installment and shared why this new film is from him to the fans. 
"The last movie was for Paul, we love to say this movie is from Paul," Ludacris revealed to Entertainment Tonight. "So, I mean his presence is always going to be felt and at this point we're working hard and trying to make the best movie possible for him to continue on his legacy."
Diesel was more emotional when discussing filming the movie without his friend and co-star. 
"A lot of people go, 'What's it like making a movie without Pablo' and that's not the right question. The real question, he said, is "What's it like living without your brother?" he said. Diesel named his daughter Pauline in honor of his friend. 
In March, the actor shared a throwback photo on Instagram of him and Walker embracing in a hug. He captioned the photo "Always..." 
For Michelle Rodriguez, the latest film was a way to reinvent the franchise. There was no way to ignore the obvious loss of their co-star and that's why this film is darker. "We didn't want to jump in and pretend that everything's OK after such a big loss," she said. "You kind of have to reinvent the thing and go dark before coming out of it."
It is hard to ignore the character's absence, so the eighth entry in the franchise does give a few nods to Brian that help the story progress from the last film and his character's decision to part ways. 
Mic has ongoing movie coverage. Please follow our main movies hub here.