Trump's Border Wall Plan: Here are some of the more bizarre design proposals so far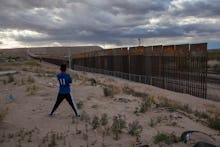 Irradiated hell corridor. Mexican zoo. Borderlands Epcot.
Those represent three of the designs for President Donald Trump's border wall from companies in response to a request for proposals by U.S. Customs and Border Protection in late March.
Up to 400 companies were expected to submit proposals, the Guardian  reported Monday.
Some of those proposals are more realistic than others.
Radioactive moat
Perhaps the most outlandish design comes from Clayton Industries of Pittsburgh, Pennsylvania. The company proposed digging a 100-foot deep, nuclear waste-filled trench along the 2,000-mile length of the U.S.-Mexico border. 
Spent nuclear fuel rods and other waste could be used to generate power, owner Christian Clayton told the Wall Street Journal.
The only thing standing between Mexico and the spent fuel rods would be a chain-link fence, according to a company rendering of its proposal. 
This could pose a security risk — as analysts have speculated, spent nuclear fuel rods might make an tantalizing target for terrorists looking to build nuclear devices.
Mexican zoo
Another proposal by Penna Group, a Fort Worth, Texas company, would effectively turn Mexico into a zoo for the United States. 
The company proposes erecting a double-wire mesh fence with a one-way mirror that would let those on the U.S. side see into neighboring Mexico — while keeping the U.S. side hidden. 
The design would allow U.S. border patrol agents to see potential border crossers, the company told the Wall Street Journal. As the paper pointed out, "The double-lined, double-wire mesh design is often used in maximum-security prisons."
Solar panel wall
Not all the proposed designs are quite so dystopian: At least two companies submitted designs for a wall covered in solar panels. 
Gleason Partners, "a 100% Vietnam veteran-owned small business," and Advanced Warning Systems both proposed building massive solar installations along the sunny southern border. "Talking with young people, some of Spanish descent, they say if the wall is going to be built, they want it to be green," Thomas Gleason told CNN.
Other firms rejected the idea of a wall altogether. 
Otra Nation, a collective of architects and engineers that describes itself as "a shared co-nation between Mexico and the United States" proposed a futuristic hyperloop that would run along the entire border.
CBP will choose some companies to build prototypes of their proposals, after which a final design will be chosen. The wall is expected to cost $21.6 billion and take more than three years to build.