United Airlines: New video shows bloody aftermath of passenger controversy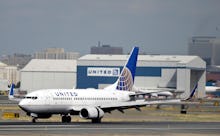 A passenger was forcibly dragged by security off a United Airlines flight Sunday. The passenger on flight 3411 from Chicago to Louisville was not removed due to behavior, threats or indecency, but because the airline overbooked its own flight. 
As Mic previously reported, footage of the incident shot by passenger Tyler Bridges has gone viral. Since the video's initial release, even more footage has emerged showing the emotional toll and physical aftermath the man faced. 
In the video shared on Twitter, the passenger repeats the phrase "I have to go home" while clinging to the inside of the aircraft.
 In a second angle, the man can also be heard saying, "Just kill me."
In a statement shared on Twitter, Oscar Munoz, the chief executive of United Airlines, said: 
This is an upsetting event to all of us here at United. I apologize for having to re-accomodate these customers. Our team is moving with a sense of urgency to work with the authorities and conduct our own detailed review of what happened. We are also reaching out to this passenger to talk directly to him and further address and resolve this situation.
The Chicago Police Department said in a statement the passenger had become "irate" when asked to leave the plane and "fell" in the process, thus causing the facial injuries.
Even still, the Chicago Police Department placed the officer who dragged the man off the flight on leave, according to the Associated Press. 
As Mic reported, airlines routinely over-book flights, counting on no-shows at the gate. The Department of Transportation has specific rules and regulations for overbooking flights, noting it's a "perfectly legal" practice. It added that when an oversale occurs, airlines are required to ask for volunteers to give up their seats in exchange for compensation. There is no legal requirement to what that compensation should be.