San Bernardino shooter identified as Cedric Anderson; 8-year-old student, teacher killed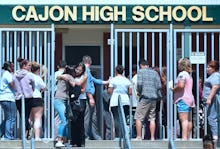 On Monday, Cedric Anderson, 53, entered North Park Elementary school in San Bernardino, California, where he opened fire killing two people, one adult and an 8-year-old child, as well as injuring a second student, according to the Los Angeles Times. Here's what we know about the gunman so far.
Anderson turned the gun on himself
According to local police, Anderson shot and killed his estranged wife, Karen Smith, 53, and then shot himself. He died of self-inflicted wounds at the scene.
"We believe this to be a murder-suicide," San Bernardino Police Chief Jarrod Burguan tweeted. "Happened in a class room. Two students have been transported to the hospital."
Anderson entered the school legally
San Bernardino Superintendent Dale Marsden told KTLA, Anderson went to the school to visit Smith. According to Marsden, Anderson checked in to the school's front office using his ID, which is the only unlocked door during school hours.
The gunman likely acted alone
Following the shooting, Burguan additionally tweeted the threat had ended. 
He likely did not target students
San Bernardino Capt. Ron Maass told KTLA, the children were not specifically targeted by Anderson. "We believe the two children were the unfortunate recipients of injuries by being in the proximity to the female at the time of the incident," he said.
April 10, 2017 7:58 p.m. Eastern: This story has been updated.