What is Good Friday? Here's what the holiday means and how it's celebrated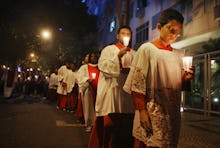 This weekend, millions of Christians around the world will celebrate the death, and subsequent rebirth, of Jesus Christ, starting with Good Friday. But what is this holy day and why is it celebrated? 
What is Good Friday?
Good Friday marks the crucifixion of Jesus and his ultimate death at Calvary. On the first Good Friday, Jesus was arrested, flogged, crowned with thorns, condemned to death, crucified between two thieves, said his last words and died, according to the National Catholic Register. 
Following Good Friday comes Easter Sunday, the day Christians believe Jesus raised from the dead, or as Justin Holcomb wrote for Christianity.com, it is the day "heralding his victory over sin and death and pointing ahead to a future resurrection for all who are united to him by faith (Romans 6:5)."
How did it get that name?
A day celebrating death doesn't seem like such a "good" day at all, however, as New Advent points out, the day is not known by this singular name throughout the world. In Greek liturgy it is known as "Holy" and "Great Friday," while in German it is known as "Sorrowful Friday." In the English language, the term may have developed from "God's Friday." 
Regardless of the origin, Holcomb said, "the name Good Friday is entirely appropriate because the suffering and death of Jesus, as terrible as it was, marked the dramatic culmination of God's plan to save his people from their sins."
Why is it on a different date every year?
As the Telegraph reported, Good Friday's celebration date is calculated as the first Sunday after the first full moon following the first day of spring. It always falls between March 21 and April 25. While the date of Easter has been the subject of great debate over the last few centuries, one archbishop is now suggesting the world's Christians standardize the date and make it fall on the same Fridayto Sunday each year.
How is Good Friday celebrated?
While traditionally there is no mass or celebration of the Eucharist on Good Friday, a liturgy may still be performed. Church bells are also silenced on Good Friday. To continue the solemn day, Christians often fast throughout Good Friday. Followers are only allowed one full meal with two smaller meals. Traditionally, followers also abstain from eating meat or animal products. 
Paschales Solemnitatis, the preparation and celebration of the Easter Feasts, reads, "Good Friday is a day of penance to be observed as of obligation in the whole Church, and indeed through abstinence and fasting."
Do I get a day off work for it?
Good Friday is not a federal holiday in the United States, however, the day is celebrated as a state holiday in Delaware, Florida, Hawaii, Connecticut, Indiana, New Jersey, North Carolina, Kentucky, Louisiana, North Dakota, Tennessee and Texas. It is indeed a federal holiday in most Latin American countries including Brazil, Chile, Colombia, Peru, as well as Spain.