Who is Hasan Minhaj, the comic tapped to perform at White House correspondents' dinner?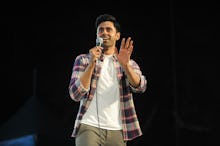 Comedian and actor Hasan Minhaj is not a fan of President Donald Trump.
The veteran Daily Show correspondent chosen to host the White House Correspondents' Association dinner on April 29 once described Trump as a "racist maniac," and "white ISIS" during a 2016 episode of the show, satirically suggesting the then-Republican presidential frontrunner's proposed Muslim ban was actually an attempt to protect foreign Muslims from racist Trump supporters.
"This place is scary right now," Minhaj said of the United States, "and that's why Trump said we can't have any Muslims enter the U.S. until we figure out what the hell is going on."
Who is Hasan Minhaj?
Minhaj is a 31-year-old Indian-American Muslim born and raised in Davis, California. He studied political science at the University of California, Davis, but decided to pursue a career in comedy after watching Chris Rock's 2004 stand-up special "Never Scared," according to Audrey Magazine.
He appeared in several minor roles on TV shows including Arrested Development and Comedy Central's @Midnight, according to Deadline. He also served as the opening act for comedy staples Katt Williams and Gabriel Iglesias.
In 2013, Minhaj hosted MTV's Failosophy, a digital commentary that lasted one season.
He rebounded in 2014 by landing the Daily Show correspondent gig.
In June, Minhaj was lauded for his hilarious and poignant set at the Radio Television Correspondents Association dinner, where he ripped Gov. John Kasich and criticized Congress for failing to pass stricter gun control measures in wake of the night club shooting in Orlando, Florida.
Minhaj also filmed a Netflix special, Hasan Minhaj: Homecoming King, but there's no premiere date yet, Deadline reported.
Trump had already stated he wouldn't be attending this year's correspondents' dinner, which apparently has disappointed Minhaj.
"It is a tremendous honor to be a part of such a historic event even though the president has chosen not to attend this year. SAD!" Minhaj told Politico in a statement about his new gig. "Now more than ever, it is vital that we honor the First Amendment and the freedom of the press."