Here's how much a Pulitzer Prize actually boosts book sales for winners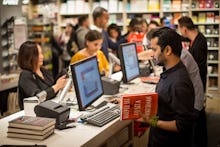 Winning one of the most prestigious awards for writing is great for your career — not to mention your ego. No more toiling in obscurity as you struggle to make ends met. But you might be surprised at how little a Pulitzer affects actual book sales: While a win almost always gives books a sales bump, its overall effect might be more modest than you'd expect.
Take Colson Whitehead's The Underground Railroad, which won the Pulitzer Prize for fiction, and moved from No. 323 on Amazon's best seller rank to No. 12 a day later on April 11. The acclaimed novel, which had previously won the National Book Award and was an Oprah book club choice, is an imaginative tale of an escaped slave's journey to freedom in the pre-Civil war era. 
Yet while an Amazon ranking of 12 is solid, it's not clear Whitehead's book will regain the No. 1 sales ranking it enjoyed on the New York Times bestseller list in 2016 — after Oprah made it her book club pick.
Indeed, the last two Pulitzer fiction winners, Anthony Doerr's All the Light We Cannot See and Donna Tartt's The Goldfinch, never reascended to the bestseller status they earned before winning the Pulitzer following their wins. Notably, other book awards, such as the Newbery and the National Book Award seem to be better at drumming up sales.
Meanwhile, Evicted by MacArthur "genius" Matthew Desmond, winner of the 2017 Pulitzer Prize in general nonfiction, jumped from Amazon's No. 6,760 on April 10 to No. 1,056 on April 11. The book, which explores the mass evictions during the financial crisis, is still a long way from the sales ranking it would need to make it onto the New York Times bestseller list like it did in 2016.
A Pulitzer can pluck a book out of obscurity
Lesser-known winners, to be fair, saw tremendous sales bumps following the 2017 Pulitzer announcements. Hisham Matar's The Return, which recounts the author's search for his father in Libya, rose from No. 219,668 to No. 5,396. Blood in the Water by Heather Ann Thompson rose from a dismal No. 20,142 ranking to No. 817 after winning the Pulitzer Prize for history.
The book examines the brutality and severe prison conditions that led to the Attica prison uprising in 1971.
Finally, in the poetry category, the paperback version of Tyehimba Jess' Olio, which explores racial discord and collaborative identity, soared from No. 35,127 to No. 429 in 24 hours. 
...but it won't always make the author rich
Winning a Pulitzer doesn't always equate to big money, however. "Whether awards such as the Pulitzer automatically translate to a significant improvement in sales depends on the award itself — and the book in question," Forbes noted. 
While this year's poetry winner has already enjoyed a seismic rise in its Amazon sales ranking, poetry winners only "rarely" see a big increase in sales, Forbes added.
All of this said, sometimes Pulitzer winners do hit the sales jackpot. Olive Kitteridge by Elizabeth Strout, for example, rose from weekly sales of 1,197 to as much as 11,141 sold per week shortly after it won the 2009 fiction award, according to Publisher's Weekly.
By 2012, it was a mega-hit, with some 914,000 copies sold.
Sign up for The Payoff — your weekly crash course on how to live your best financial life. Additionally, for all your burning money questions, check out Mic's credit, savings, career, investing and health care hubs for more information — that pays off.