Syria Bombing: Here's what Trump could do next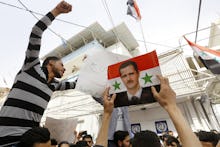 President Donald Trump's decision to launch a slew of Tomahawk missiles at an airfield in northern Syria on Thursday was met with approval at home and abroad. Current and former U.S. officials, with a few exceptions, applauded Trump's swift action in Syria.
The strike came in response to a sarin gas attack in Khan Sheikhoun, a town in northern Syria. The United States said the regime of Syrian President Bashar Assad was behind the gas attack, while Syria and its ally Russia claimed the gas came from a rebel factory producing chemical weapons. The U.S. and its allies, including Saudi Arabia and Turkey, back the Syrian rebels, while Russia and Iran support the Assad government.
Now, the world watches to see what America's mercurial president will do next. Trump's intentions in Syria are unclear, and members of his own administration have offered conflicting views of what should come next.
Regime change
At home, hawks like Sens. John McCain and Lindsey Graham called for regime change, à la the U.S.-led intervention in Iraq to remove Saddam Hussein from power that began in 2003 and continues today. Graham said "five or six thousand" U.S. troops would be sufficient to topple Assad.
Nikki Haley, Trump's ambassador to the United Nations and a critic of Russia's involvement in Syria, said regime change "is something that we think is going to happen," but she wouldn't commit to putting boots on the ground.
National security adviser H.R. McMaster also appeared to call for regime change. "It's very difficult to understand how a political solution could result from the continuation of the Assad regime," McMaster said, according to Time. "Now, we are not saying that we are the ones who are going to effect that change. What we are saying is, other countries have to ask themselves some hard questions. Russia should ask themselves, 'Why are we supporting this murderous regime that is committing mass murder of its own population?'"
Secretary of State Rex Tillerson said on Tuesday that the Assad regime is "coming to an end," the New York Times reported. Tillerson suggested "steps are underway" for an international coalition to remove Assad.
Some U.S. allies also called on the U.S. to up the pressure on Assad. "I want to say we found this positive as a step taken against the war crimes the Assad regime has committed with chemical and conventional weapons," Turkish President Recep Tayyip Erdogan said Monday, according to the New York Times. "Is it enough? I don't reckon it is enough."
Israeli Prime Minister Benjamin Netanyahu also chimed in. "Israel fully supports President Trump's decision and hopes that this message of resolve in the face of the Assad regime's horrific actions will resonate not only in Damascus, but in Tehran, Pyongyang and elsewhere," he said, according to the Times.
Diplomacy
Others have advocated a more diplomatic tack. Anthony Blinken, a deputy secretary of state under President Barack Obama, called on the Trump administration to use "smart diplomacy" coupled with force in Syria. The U.S. could make clear to Moscow that it will hold it accountable for any further atrocities, Blinken wrote for the New York Times. It could also "condition counterterrorism cooperation with Russia — something Moscow wants — on Russia's efforts to rein in the Assad regime and push it toward genuine peace negotiations with rebels."
In the Atlantic, Krishnadev Calamur also writes that Assad's removal will most likely be forced through diplomacy. Russia would likely find a diplomatic solution more palatable, Calamur writes, and it has telegraphed that its support for Assad isn't unconditional — a signal to the U.S. that it might be willing to make a deal.