United Airlines stock: How much share prices are down following release of David Dao video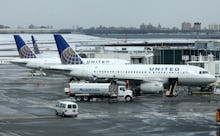 Video went viral Monday showing United Airlines booting a passenger on an overbooked plane — and outrage continued to spread through the week, as viewers shared the footage of Chicago airport security personnel dragging 69-year-old doctor David Dao, with what appeared to be a bloody injury to his mouth.
As a consequence, the airline's stock price took a dip Tuesday morning, briefly knocking $800 million off United's market capitalization, a measure of the company's value.
Compounding the outrage is the United CEO's tepidly apologetic response, allegations of racism and threats of a boycott by Chinese customers in response to the video; a Chicago Aviation Officer was also put on leave, and Dao has signaled he will fight back in court.
Perhaps oddly, it took a beat for investors to grow bearish on United stock, as shares of United Continental Holdings actually closed higher during market hours on Monday, up nearly 1%. But as of Tuesday's market close, UAL was down by more than 1% for the day — and the same occurred on Wednesday. Thursday morning the stock's price was flat and slightly negative.
United CEO Oscar Munoz was widely panned for sounding unsympathetic in his official statement about the incident: "This is an upsetting event to all of us here at United. I apologize for having to re-accommodate these customers," the company shared in a tweet.
But despite the firestorm, it's unclear whether the event will lead to long-term losses for United and its investors. It's instructive to remember other companies like Apple, Exxon, Johnson & Johnson and Merck have all survived PR disasters that led to drops in stock price over the medium term.
Complicating matters is the fact that passenger David Dao received negative coverage in the press after past criminal convictions were unearthed. As writer Josh Terry pointed out on Twitter, such reports verge on victim-blaming, and Dao's past does not excuse United's handling of the situation. But it is unclear whether the coverage will dampen some of the outrage that has led to the stock price drop.
April 13, 2016, 10:40 a.m. Eastern: This story has been updated.
Sign up for The Payoff — your weekly crash course on how to live your best financial life. Additionally, for all your burning money questions, check out Mic's credit, savings, career, investing and health care hubs for more information — that pays off.