Bill O'Reilly has been obsessed with calling out sexism and violence in hip-hop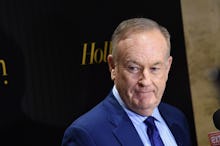 One of Bill O'Reilly's favorite targets — perhaps more than liberals, or Obama — is hip-hop. 
For years, he's used his show to take aim at rappers and the culture of "sin" he claims they promote. He's taken aim at Snoop Dogg for smoking weed, Nas for being "vile," Common for defending Assata Shakur and Cam'Ron for promoting violence. He's also taken aim at Method Man, Kanye West and Jay Z. He's even gone after Beyoncé, via Russell Simmons' appearance on his show in 2014, for proudly talking about sex on the track "Partition."
"[Beyonce] puts out a video that glorifies having sex in the back of a limousine," he said in 2014. "Why would she do it when she knows the devastation that unwanted pregnancies…and fractured families—why would Beyoncé do that?"
But while O'Reilly himself was helping to build the company's brand by criticizing hip-hop for its ... sexism, he had allegedly sexually harassed several women. Fox News has quietly offered multiple million-dollar settlements to several women who alleged to have been sexually harassed by its star host Bill O'Reilly. 
Central to O'Reilly's crusade against hip-hop is his argument that it's ruining America's moral fabric. And it's O'Reilly, in all of his chivalrous heroics, who's here to help stitch it back together by putting rappers on blast.
"The rap industry often glorifies depraved behavior and that sinks into the minds of some young people," O'Reilly said about a Pew study that found that Christianity is on the decline in the United States.
But nowhere was O'Reilly's strategy best on display than when he took on Ludacris in 2002. Luda was at the top of his game with hit singles like "What's Your Fantasy," "Money Maker" and "Area Codes." O'Reilly said that the rapper was "subverting the values of the United States" because he "degrades women."
O'Reilly was so sanctimonious in his views that he congratulated Pepsi when the company decided to end its sponsorship with the rapper.
Culture critic Jay Smooth probably said it best a decade ago when he pointed out that O'Reilly has more hip-hop beefs than most rappers do in a lifetime. But, as it turns out, we didn't even know the half of it. While he was on his soap box preaching out the sanctity of traditional value, he was also routinely preying on some of the women closest to him.
When it comes to misogyny, it's safe to say that it takes one to know one.