Kansas Special Election Tonight: What time to expect results and other important info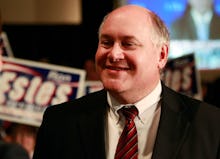 Kansas voters head to the polls Tuesday to decide who will represent them in the state's fourth congressional district, after the seat's previous occupant, Mike Pompeo, was chosen by President Donald Trump to lead the CIA.
Republican contender Ron Estes, the state's current treasurer, will face off against Democrat James Thompson, a civil rights attorney and veteran. Flight instructor and Libertarian Chris Rockhold is also running, though Estes is widely predicted to win.
Here's what to know about the Kansas special election.
Polls close at 7 p.m. Central
Polls close at 7 p.m. Central. Results should be available by 9:30 or 10 p.m., Desiree Taliaferro, a spokeswoman for Kansas' secretary of state, told Mic.
For Democrats, the fact a seat is up for grabs in Kansas — traditionally a Republican stronghold — is a positive sign. While few expect Thompson to win, a close loss might signal that the coalition that propelled President Donald Trump to the White House may not be as enthused about local elections. Trump won Kansas's fourth congressional district in a 27-point landslide.
A sign of things to come
The possibility of a loss, or even the appearance of a competitive race, seems to have spooked Republicans. Several big-name GOP officials, including Trump and Texas Sen. Ted Cruz, have blitzed the state with robocalls, according to the Wichita Eagle. Cruz also visited the state to campaign with Estes, while Trump tweeted his support.
If results are close, Democrats will likely be heartened heading into April 18's special election in Georgia's sixth congressional district, a seat formerly held by current Secretary of Health and Human Services Tom Price. Trump is much less popular in the that district, which covers parts of Atlanta's suburbs, than he is in Kansas. 
Combined with a state Republican party split over a candidate, 30-year-old Jon Ossoff stands a decent chance to become the first Democrat elected in Trump's America.
Democrats need to win 24 seats to retake the U.S. House of Representatives.