Trump tweeted the day after the Tennessee bus crash, but has been silent on San Bernardino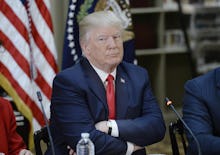 When six elementary-school kids died in a tragic Tennessee school bus crash in November, Donald Trump — then the president-elect — was quick to offer his condolences on Twitter.
"Bus crash in Tennessee so sad & so terrible," Trump tweeted the following day. "Condolences to all family members and loved ones. These beautiful children will be remembered!"
But the president's Twitter feed has remained noticeably silent about the shooting that took place Monday at North Park Elementary School in San Bernardino, California. 
Police say the suspected shooter, Cedric Anderson, 53, shot and killed estranged wife Karen Smith, a teacher at the school, as well as an unidentified 8-year-old student who died later at a local hospital. 
A third alleged victim, a 9-year-old student, remains in stable condition, according to NBC News.
Trump has yet to comment on the shooting, which hasn't gone unnoticed by Twitter users.
Some suggested the president has a lot to say about terror attacks, but little to say about gun control.
Others, like screenwriter and producer Robert Schooley, implied domestic violence wasn't high enough on Trump's priority list.
During his campaign, Trump focused much of his attention on fighting terrorism — but since 9/11, far more Americans have been killed in school shootings than radical Islamic terror attacks, according to CNN. 
Since 2013, there have been at least 220 school shootings in the United States, according to Everytown for Gun Safety Support Fund, a gun violence research group. Eleven terror attacks took place on U.S. soil between 2013 and 2016, the DailyWire reported in December.