How do Coachella lockers work? Here's why you may not even want one.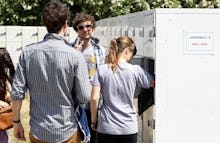 The Coachella Valley Music and Arts Festival is fast approaching. If you're planning to attend, you've likely already picked out your music lineup, outfits, and what to pack, but one thing you may not have considered is how you plan to lug your stuff around the Empire Polo Club fields all day. One potential solution is renting a locker. 
Lockers at Coachella are made available via the third-party vendor Trophy Lockers, but the supplier is more lovingly referred to as "Locker Lou," the proprietor of said locker company. In fact, Coachella has one rule and one rule only when it comes to the locker service, "Be kind to Lou!" 
The service is simple: Reserve a medium, large, extra-large, or camping locker — small for some reason doesn't exist — for the entire three-day weekend, bring your receipt and exchange it for a key. Medium lockers run $55.10, large at $65.10, extra-large at $80.10 and camping lockers for $50.10. If you're thinking about renting one, you should act fast, as medium lockers are already sold out for the first weekend of Coachella. 
But is investing in a Coachella locker really worth it? According to the very active Coachella community on Reddit, maybe.
"YES! This is an extremely helpful tip!!!," Reddit user callmehill proudly exclaims adding, "You can put your sweaters in there during the day and keep your sunglasses and bought items in there at night! These are a MUST for people who have other things they want to bring (like a jacket or glasses) but don't want to carry them around all day." 
However, as Reddit user sundevil63 points out, "Word of the wise: Yes they're convenient and useful, but check-in for getting a locker on Friday (when everyone does so) can have a 30-plus min wait. So get the locker reservation set up first thing Friday before 3 p.m. or wait till post 7 p.m. Otherwise, you're wasting time waiting in line."
What it really comes down to, according to the community, is time and money. 
If you're willing to spend a little bit of cash, are likely to purchase a lot of merchandise on site and want to pack an extra pair of shoes and a sweater, then, yes, it could be totally worth it to rent a locker. 
However, if you can easily fit your phone, charger, sunscreen, and cash in your bad, are already wearing comfy kicks and hate the idea of trekking back and forth to the lockers all the way across the field all day, then there may be no reason to rent. 
Instead, you can hat $60 on a sweet new backpack, or, better yet, get yourself a Coachella-worthy fanny pack from Etsy to truly stand out all weekend long.