Can I bring alcohol to Coachella? The answer is complicated.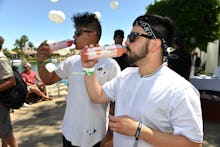 Can you bring your own alcohol onto the venue grounds at the Coachella Valley Music and Arts Festival? Nope. You can't. 
We could end it here, but let's keep going — it gets better from here — and expand on where you can in legally imbibe at Coachella. 
If you're camping
According to Coachella's rules and regulations page, campers can bring in exactly one case of beer or box of wine per person. No glass or kegs are allowed. Drinks cannot be brought from the camping area to the venue. 
Believe it or not, Coachella is pretty strict on the one case policy. But, as Reddit user MOD3Z shared in the Coachella subreddit, restocking your camp's alcohol isn't a huge problem. "Don't bring glass or an excessive amount. If you run out, just hop on the shuttle to the store. It takes like 15 to 20 minutes round trip. We do it every year. If you bring like six handles for four people, they might question you. Just be responsible!"
Additionally, Coachella has this stern warning: 
If, in the festival staff's judgement, it appears that there is an excessive amount of alcohol for the number of people in the vehicle or if anyone in the vehicle is under 21 years of age, we reserve the right to deny entry of the vehicle and/or you will surrender the alcohol.
If you want to drink on site
According to Coachella's guide page, "no outside food or beverage" can be brought onto the grounds. However, if you're over 21, you're in luck, as Coachella offers several beer and cocktail areas for you to purchase alcohol. But be warned: Coachella's alcohol prices are astronomical. As Los Angeles Times music critic August Brown says, "Hard alcohol doesn't come cheap at Coachella, and the bartenders in the liquor tents pour with the icy precision of a Pfizer chemist. Stick with beer. It's cheaper, and your mere existence in this heat is burning enough calories to compensate."
Either way 
Drinking before, during or after the festival sounds fun, but be careful; temperatures in the Coachella Valley will likely hover somewhere around 90 degrees during the day, meaning dehydration, even without the added effects of alcohol, is a major possibility.