Walmart is putting a million products on sale, battling Amazon. But there's a big catch.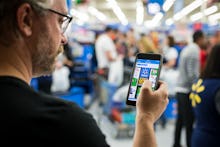 Tired of watching Amazon eat its lunch, Walmart is punching back with a deal even the online shopping giant can't match: Starting April 19, customers will get an extra discount on 10,000 items sold only online — if you're willing to pick them up at a physical Walmart store. The discount will be applied to more than one million items by June.
Walmart's move comes against a backdrop of retailers closing brick-and-mortar locations, as a way to sway shoppers into visiting. The price breaks certainly seem solid at first glance, including $50 off a Vizio 70-inch HD television.
Shoppers will typically save 3% to 5% per item with the in-store pick-up discount, Recode reported, but some items — like Lego's "City Great Vehicles Ferry" — are on sale by more than 10 percent. Discounts appear to be based on the item size because the larger the item, the more expensive it is to ship, according to Business Insider.
Walmart says it is simply passing on savings from sending its fleet of 6,700 trucks straight from fulfillment centers to its 4,700 stores — instead of making home deliveries, which is expensive: "It costs less for us to ship to stores," Marc Lowe, Walmart's president and CEO for U.S. ecommerce said in a release announcing the move.
Is a 3% discount worth your time?
Walmart is hoping the price break will motivate customers to take the time to drop by a store to pick up their purchase. But is it worth your time?
Big savings can be persuasive: 88% of millennials polled in a study reported in 2015 by Entrepreneur said they might purchase an item online and pick it up in a store if they could save $10 on a $50 item — aka a 20% discount.
But whether you are (or should be) one of those 88% depends on how much free time you have and how much you value it. If you barely have time to make it to the gym and buy groceries — much less make a leisurely trip to Walmart just to save $4.50 on a cooler and $7.40 on a car seat — in-store pickup may not actually be worth it for you.
One way to determine if any discount is worth it is by comparing your earnings to the time and effort it takes to receive the discount.
For example, if you make $25.50 an hour after taxes and would save 30 minutes by taking a cab instead of the bus, the cab ride is better — as long as it doesn't cost more than $12.75 over public transportation, Forbes estimates.
Alternately, you could calculate a flat dollar savings.
To use one of Walmart's featured in-store pick up discounts, customers save $2.55 on that Lego City Great Vehicles Ferry, which retails for $23.99. Since the average cost for a gallon of gas at the time of this writing is $2.40, you might save just 15 cents by picking it up at the store if you live several miles away. Plus, factor in the time it takes you to drive there and back, and it might really not be worth it! Gas isn't free and time is money.
This handy tool can help you with time versus money situations — including whether a trip to pick up a discounted item is worth your time. If you're buying lots of Walmart items all in one visit, that could make going in person worth it. If not, staying home might be thriftier.
Cranking up the heat on Amazon
Amazon has enjoyed online retail domination for years, but Walmart is definitely on the move. Currently the second-largest online retailer after Amazon, Walmart's online sales actually rose faster than Amazon's in the fourth quarter of 2016. It also acquired online retailer Jet.com and increased the number of items it sells online from 8 million to 35 million in 2016, the Los Angeles Times reported. 
Amazon has taken note. After Walmart eliminated its membership program and lowered its minimum purchase for free shipping to $35 in January, Amazon lowered its own minimum purchase for free shipping requirement to the exact same amount.
Despite Walmart's strides, it still has a long way to go to catch up with Amazon: Its 2016 sales of $14.4 billion still lag far behind Amazon's $94.7 billion, according to eMarketer, the Los Angeles Times reported.
Sign up for The Payoff — your weekly crash course on how to live your best financial life. Additionally, for all your burning money questions, check out Mic's credit, savings,career, investing and health care hubs for more information — that pays off.