Obama Wiretap Evidence: New intel review shows no evidence of illegal surveillance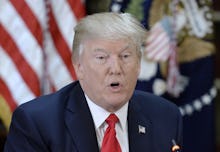 A bipartisan group of lawmakers who reviewed classified documents determined that former President Barack Obama and his administration did not do "anything unusual or illegal" when it spied on members of  Donald Trump's transition team, CNN reports.
"Absolutely" no smoking gun
An anonymous source told the network there was "absolutely" no smoking gun in the documents, which had previously been available only to House Intelligence Committee Chairman Devin Nunes, the California Republican who was a member of Trump's transition team.
News that United States intelligence had intercepted communications from Trump associates broke in early March, when President Donald Trump tweeted, without evidence, accusations that Obama wiretapped Trump Tower. Trump demanded a congressional investigation. The Senate and House launched separate inquiries and Nunes was initially the head of the latter investigation.
The Senate concluded its investigation by mid-March, finding no evidence that the Obama administration has specifically targeted Trump. It did, however, find that some Trump associates' communications had been scooped up by routine surveillance of Russian intelligence officials. "Based on the information available to us, we see no indication that Trump Tower was the subject of surveillance by any element of the United States government either before or after Election Day 2016," Sens. Richard Burr and Mark Warner, the chair and vice-chair of the Senate Intelligence Committee, said.
Rice's actions "normal and appropriate"
But the House Intelligence Committee's investigation continues. That investigation was briefly energized in early April when news broke that Obama National Security Adviser Susan Rice had requested the "unmasking" of anonymous Trump associates whose communications had been caught in the intelligence community's dragnet.
However, both Democratic and GOP lawmakers who reviewed classified documents related to the investigation determined that Rice had nothing wrong. Three days after the Rice news broke, Nunes stepped down from the investigation amid concerns over his impartiality.
So far, the president has staunchly refused to backtrack, despite the increasing appearance that his initial statement was simply false. "I think it's going to be the biggest story," Trump told CNN, calling it "truly one of the big stories of our time."