Ben Carson getting stuck in a public housing elevator shows how much work he needs to do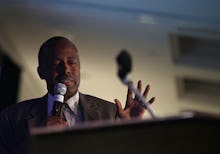 Dr. Ben Carson, the United States Housing and Urban Development secretary and famed neurosurgeon, got stuck in an elevator during a tour of a housing project in Miami on Wednesday morning.
No amount of surgeon's tools could help him escape the metal contraption — he was stuck inside for 15 minutes until Miami firefighters pried him and NBA legend Alonzo Mourning out, the local CBS affiliate WFOR-TV reported.
Carson tweeted his thanks to Miami fire and police after he was freed.
Carson was touring the Courtside Family Apartments building with Mourning, as part of his national listening tour for people who rely and support the nation's affordable housing projects. And as President Donald Trump's budget proposal cuts the HUD budget by $6 billion, Carson's ordeal in the elevator is perhaps the best way to highlight how inadequate government-funded housing programs can be for the poor and elderly who live in them.
Poor families and the elderly have to be fortunate enough to snag a voucher to get in a public housing program. There were 18.5 million U.S. renters who met the income eligibility for public housing in 2013, up by 2.6 million since 2007, according to a 2016 report of the Joint Center for Housing Studies at Harvard University.  But the number of renters receiving housing assistance from HUD fell by 159,000 over that same period.
According to the report, only one in four income-eligible renters received assistance. The Harvard housing center also cited the National Low Income Housing Coalition, which estimated that only 57 affordable units were available for every 100 very low-income renters in 2014.
Here's hoping that Carson's experience as a neurosurgeon translates to his new job. He'll have to operate on the nation's public housing stock to help meet the need with a decreased budget.