Mahmoud Ahmadinejad: Former Iranian president, 9/11 conspiracy theorist is running again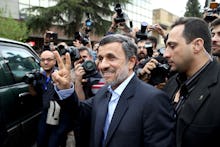 Former Iranian President Mahmoud Ahmadinejad is vying for a third term, according to the Tehran Times.
Ahmadinejad is a Holocaust denier who once called 9/11 an inside job and has also called for the destruction of Israel.
Now, the controversial leader — whose followers once routinely chanted "death to America!" — is throwing his hat into the latest race to become Iran's president once again, a polarizing last minute move before the country's May 19 election.
Ahmadinejad's late bid defies the wishes of Supreme Leader Ayatollah Sayyid Ali Khamenei who in September advised his protégé to stay out of the race, "both for his own and the country's good," according to the Tehran Times.
"The Leader advised me not to participate in the elections, and I accepted," Ahmadinejad told reporters after registering to run Wednesday, the Tehran Times reports. "His advice, however, shouldn't be taken to mean that I'm banned."
Ahmadinejad's 2009 election win resulted in riots amid allegations of corruption and election tampering. Iranian policy experts speculate the country's election candidate vetting body, the Guardian Council, won't allow the former president to make the official May 19 ballot.
More than 126 candidates have registered to run for president, but the final list of candidates won't be announced for another two weeks, following an Interior Ministry council review, according to NPR.
"He won't be qualified by the Guardian Council for sure given his background," Principal policy analyst Hassan Lasjerdi told the Tehran Times.