3 key takeaways from the Vladimir Putin-Rex Tillerson meeting in Moscow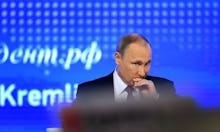 Russian President Vladimir Putin's last-minute meeting with United States Secretary of State Rex Tillerson in Moscow Wednesday was about much more than keeping the Team Trump's envoy in suspense. 
There's a lot of history there — and potentially a lot more to be made at this critical juncture in American-Russian relations.
Here are three takeaways:
1. It was no accident Putin made Tillerson wait.
Russia and the U.S. are at complete loggerheads over Syria, and things have gotten so tense, it wasn't clear to the U.S. team that Putin would even agree to a face-to-face with Tillerson.
The U.S. has applied increasing pressure in encouraging Russia to break ties with Syrian President Bashar Assad, particularly after Assad deployed chemical weapons last week in an attack that killed and injured civilians, including children.
By forcing Tillerson to cool his heels, Putin sent an unmistakable message, in characteristic style, that he had the upper hand during the first major U.S.-Russia talks of the Trump administration.
Putin, who has propped up the Assad regime against rebel forces, has called a retaliatory U.S. missile strike on a Syrian air field an illegal act of aggression against a sovereign state. 
He's also refused, including in a new interview with Russia's Mir state television, to concede that Syria used nerve agents at all.
"Where is the proof that the Syrian government forces used chemical weapons? There is no proof," Putin said during the interview, broadcast Wednesday. The same day, President Donald Trump, in a pre-taped talk with Fox Business News, called Assad "an animal" and warned Putin against backing such an "evil person."
2. It's also no surprise Putin eventually met with Tillerson.
Given the political climate, Tillerson was on the hot seat during his talk with Putin, which was preceded by a tense exchange with Russian Foreign Minister Sergey Lavrov. But Tillerson is hardly an unknown quantity in Russia.
The former Exxon chief executive received the 2013 Order of Friendship medal from the Russian government. As the Washington Post previously reported, "Tillerson won the award after signing deals with the state-owned Russian oil company Rosneft, whose chief, Igor Sechin, is seen as Putin's loyal lieutenant."
Another past recipient of the award, Raymond Johnson, said he took the award as a welcome sign that he was on good terms with the Russian government, the Post reported.
But Tillerson's Russia ties, as examined after Trump nominated him to his Cabinet, go deeper than a medal and a handshake. 
"Friends and associates said few U.S. citizens are closer to Mr. Putin than Mr. Tillerson, who has known Mr. Putin since he represented Exxon's interests in Russia during the regime of Boris Yeltsin," the Wall Street Journal reported in December.
So even at a time of diplomatic tensions between the two nations, it wasn't a given that Putin would be willing to give Tillerson, and by proxy, the U.S., the cold shoulder.
3. Today's talks keep communications open, but the problems remain.
Trump's own relationship to Russia is under the microscope, having swung from what some of his critics said was a disconcerting tendency to flatter Putin to harder talk about Russia's need to sever ties with Assad.
Trump, who just so happens to be hosting NATO Secretary General Jens Stoltenberg at the White House on Wednesday, has faced inquiries about his campaign's potential ties to Russian agents and their attempts to influence the outcome of the 2016 presidential election.
The U.S. and Russia may not quite be engaged in a new Cold War. But early indications suggest neither side is immediately giving ground on its positioning on Syria — both regarding the Assad regime and the fight to defeat the Islamic State.
A Russian pool report said there would be no statements made regarding what was said at the meeting. What is certain, however, is that the wait for a solution will surely be longer than the holdup on Tillerson's face-to-face with Putin.