Donald Trump and Putin: From bromance to frenemies in under 100 days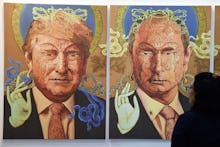 President Donald Trump's decision last week to launch 59 Tomahawk missiles at an airfield in northern Syria has apparently ended the international bromance between the reality TV star-turned leader of the free world and Russian President Vladimir Putin. In an interview broadcast on Wednesday, Putin said relations between the two countries have gotten worse since Trump took office.
'The level of trust... has deteriorated'
"One could say that the level of trust on a working level, especially on the military level, has not improved, but rather has deteriorated," Putin said, according to Reuters.
Trump ordered the missile strike in response to a sarin gas attack against the town of Khan Sheikhoun. The U.S. said the attack came from the Syrian government, led by President Bashar Assad, a Russian ally. Russia claimed the gas came from a factory controlled by Syrian rebels, who receive U.S. backing.
Some analysts predicted that Trump's decision to ramp up U.S. military involvement in the Syrian conflict could negatively impact his relationship with Putin, while others, particularly those in the Trump camp, point to the strike as proof that there's no connection between Trump and Putin. "If there was anything that Syria did, it was to validate the fact that there is no Russia tie," Eric Trump, the president's second son, told the Daily Telegraph. 
Putin's comments this week appear lend credence to the view that U.S.-Russia relations are cooling. And Secretary of State Rex Tillerson echoed the Russian president during his first official visit to Moscow on Wednesday, saying the "current state of U.S.-Russia relations is at a low point."
Following the strike, which Russia called a violation of international law, it suspended a 2015 agreement with the U.S. designed to prevent incidents between Russian and U.S. aircraft flying over Syria. Russia also deployed a warship with Kalibr cruise missiles (the Russian equivalent of U.S. Tomahawk missiles) to its battle group off the coast of Syria.
Trump's recent staffing choices also suggest that his previously warm feelings toward the Russian autocrat have changed. The forced departure of former National Security Adviser Michael Flynn in February after CNN reported that Flynn had assured the Russian ambassador, Sergey Kislyak, of Trump's willingness to discuss U.S. sanctions on Russia, signaled that Trump was at least concerned about the optics of appearing too close to Russia. Trump's choice for Flynn's replacement, Army Lieutenant General H.R. McMaster, also pointed to a new attitude toward Putin, as McMaster views Moscow as an adversary, and has said he believes Russia wants "to collapse the post-World War II... security, economic, and political order in Europe and replace that order with something that is more sympathetic to Russian interests."
Trump also offered the job of Europe and Russia adviser on the National Security Council to Fiona Hill, a former U.S. intelligence official and outspoken critic of Putin.
A bromance for the ages
Until recently, Trump's frequent praise of the Russian strongman caused worry, both among his Democratic opponents and those in his own party. In particular, Trump's praise for Putin's "strength," which he often compared to President Obama's relative weakness, caused concern.
Trump's public flirtations with Putin go back more than a decade, as Mother Jones has documented. In 2007, Trump praised Putin's strength to Larry King in response to a Russian cyber attack on Estonia. In his 2011 book Time to Get Tough, Trump wrote, "Hats off to the Russians" for standing up to President Obama.
Trump's choice to surround himself with people with known ties to the Russian government was also a cause for concern. Paul Manafort, who managed Trump's campaign before he was replaced by Steve Bannon, is set to register as a foreign agent for lobbying work he did on behalf of a pro-Russia political party in Ukraine. Manafort's consulting firm reportedly received $1.2 million for his efforts.
Manafort is far from the only Trump associate with ties to Russia.  In 2013, Russian intelligence officials reportedly sought to recruit Carter Page, a former foreign policy adviser to Trump during his campaign. And the FBI obtained a warrant to monitor Page's communications when he was working on the Trump campaign, the Washington Post reports.
The Page controversy comes amid allegations of a wide-ranging attempt by Russia to sway the 2016 presidential election in Trump's favor. Trump denied the allegation vociferously, but the revelation that U.S. intelligence had collected communications between Trump associates and Russian intelligence officials has undermined that claim. 
Now, Trump must decide whether to press Putin in Syria, a move that might inflame an already messy war, or back off, which could risk making Trump seem weak. Either way, he has few good options, and few ways to maintain his happy-go-lucky relationship with Putin.